Colorful Strenesse Blue splashes Mercedes-Benz Fashion Week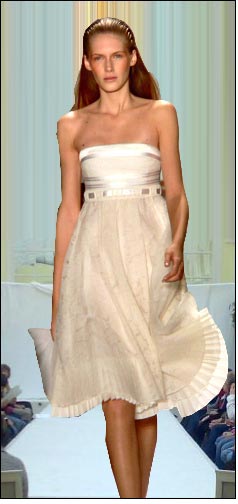 Mercedes-Benz Fashion Week, Berlin which started on January 27 will continue till 31. It's a unique fashion destination which attracts media, buyers, fashion leaders, VIPs and celebrities from around the world. The show started off with a big bang as Strenesse presented its collection-Strenesse Blue.

The designs captured the attention of the spectators and managed to steel the show by bringing a band of colours together. Gabriele Strehle, the chief designer of Strenesse is the one who has brought the brand on the international platform by presenting various collections at all high profile fashion weeks.

Strenesse Blue is young, graceful, charming and stylish collection with elegance personified. Creations offer ideal fashion for the young women who like to express their youthfulness in appealing and sensuous way. Now, with Viktoria Strehle as creative head, fashion industry can look forward to many more vivacious and youthful collections from the brand, in near future.

This collection comprises fashion for all occasions, be it the trendy and sumptuous beach wear, the casual and comfortable for cafe, sophesticated professional wear or a glamourous evening and party dress. Strenesse, which always competed in the field of high class avantgarde fashion, has plans to take the lable to the great heights.