Second Reliance Mart to be launched in Gujarat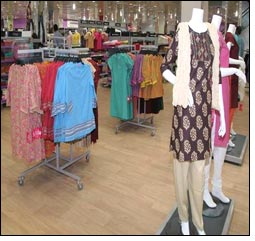 Reliance Retail Ltd launched its hypermarket under the brand name "Reliance Mart" at Reliance Greens, Motikhavdi, Jamnagar.

After the successful launch of ten formats Reliance Fresh, Reliance Digital, Reliance Trendz, Reliance Wellness, Reliance I store, Reliance Footprint, Reliance Jewels, Reliance Timeout and Reliance Super, this is the second Reliance Mart to be launched in Gujarat.

Spread across 83,000 square feet of shopping area, Reliance Mart will provide the shoppers a never before experienced shopping delight. The hypermarket will carry a range of over 35,000 products catering to the entire family.

Shoppers will have the option to choose from a wide array of products in every category ranging from Fresh Produce, Food & Grocery, Home Care Products, Apparel and Accessories, Non-food FMCG products, Consumer Durables and IT, Automotive Accessories, Lifestyle Product, Footwear, wellness products and also a wholesale section.

Commenting on the launch of the Reliance Mart, Mr Parimal Nathwani, Group President said, "The revolution in organized retail in India can bring about unprecedented socio-economic transformation in our country."

"Reliance Mart is another step forward by Reliance Retail towards providing a superior shopping experience to all our customers.

Reliance Mart seeks to exceed its customer's expectations by offering them a wide range of products and services of guaranteed quality at unmatched affordability.

Reliance Mart marks the achievement of another milestone in our effort to unleash a retail revolution in India." Mr. Nathwani said.