Moissanite – smart gift on Valentine's Day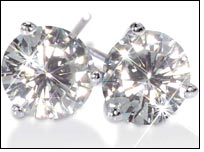 The classic one-dozen roses, a box of chocolates, dinner and a movie. These typical Valentine's Day treats are nice, but they're just that—typical. Chances are, women will want to know that their "special someone" has taken the time to choose something truly unique for the gift that represents their love.

This Valentine's Day, there's a new gift that will put a smile on her face. Moissanite, a brilliant jewel created exclusively by Charles & Colvard, certainly looks a lot like love. How? It shares many of the same characteristics associated with this beautiful sentiment, such as:

Passion-Sparks flew the very first time you looked into each other's eyes. Moissanite has two times the fire of a diamond, and is certain to heat up your feelings for each other once again.

Uniqueness-No one has the same love you do, and no one can understand or feel exactly what you do for each other. Moissanite is unlike any gemstone. With its brilliance and shine, it's in a category all its own.

Versatility-Just like your significant other looks just as good in a T-shirt and jeans as she does in evening wear, moissanite is a near-colorless jewel that pairs perfectly with any ensemble.

Quality-Your mate possesses qualities you value and cherish. Moissanite's quality is undeniable. With a certificate of authenticity, there are no doubts that moissanite is a valuable jewel to be treasured.

Practicality-Even with all the romantic moments, sometimes just knowing your better half gets along with your friends or fits in with your family makes you love her all the more. Moissanite sparkles and shines, but it's also an affordable gift that will fit within your budget.