OKA b. S/S fresh styles feature new colors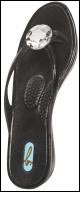 OKA b. expands its popular line of stylish comfort footwear with the introduction of a new 2008 Spring and Summer Collection.

Available to retailers beginning February 1, 2008, the collection features new styles as well as fresh additions to existing models.

Taking a page from the runway, OKA b.'s Spring and Summer Collection focuses on trend-right embellishments that speak to the fashion-conscious consumer.

The Belmont's onyx-colored stones and Marion's oversized jewels are a stunning contrast to the Camellia's flirty flower and the Madison's enduring charm. From thongs to slides, OKA b. offers a variety of styles that fit any shoe personality.

Long-standing fans of OKA b. shoes will be delighted by the introduction of 1.75-inch heels on both thong and slide styles.

Podiatrists recommend heels no higher than this height to prevent strain on the body. The addition of the heel adds a sophisticated touch to these shoes that provide amazing comfort throughout the day.

Just in time for the vibrant fashions of Spring, OKA b. adds three new hues to its already expansive color collection. Pineapple (pale yellow), Kiwi (bright green) and Popsicle (a playful pink) round out the rainbow of options and create an eye-catching addition to several styles in the OKA b.line.

Due to popular demand, OKA b. shoes are now offered in extended sizes for women and girls. The introduction of Women's XL (11 1/2 - 12 1/2), Girls XXS (2-3)and Girls XS (4-5) sizing ensures a great fit for a wider range of consumers, including young feet.