Gold to rekindle the magic of love on Valentine's Day, WGC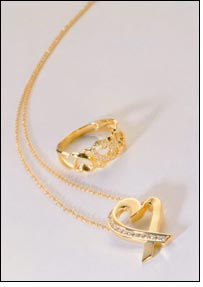 If you wish to express your love in an exceptional manner and even relish that special moment eternally, the World Gold Council (WGC) recommends that you give the perfect gift of gold to your loved ones this Valentine.

Gold is the most suitable gift which expresses love and intimate bonds. Gold also provides a perfect moment to rekindle the magic of love on Valentine's Day and your awestruck beloved will always remember your unique way of expressing your affection.

If you are meeting your childhood sweetheart after a long time, present him or her something in gold to bridge the gap. To make it extra special, personalise your gift with engraving.

Lama Al Saheb, PR Manager for the World Gold Council said: "Since time immemorial golden hearts have held a classic and timeless appeal among people of all ages.

They have become an indispensable gift of lovers. Though heart-shaped jewellery falls under a basic category it attracts everyone.

The heart collections come in a dizzying array of styles - many of which are modern versions of classic pieces. Golden hearts once again are top-sellers this season and are enjoying a major resurgence as a special gift for all the women in your life."

Only the yellow metal has the power of reviving all nostalgic feelings of your relationship and fills your world with the fragrance of love.

It brings a smile to the face of your beloved because gold jewellery still is believed to be an object of luxury that should be worn with panache.