Designers' collection for Valentine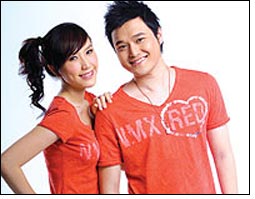 Van Thanh Cong, a famous designer exhibited his special Valentine collection on February 12. The line comprises a set of two shirts, which he created keeping young couples in mind.

The designer used cotton elastic fabric for creating the priceless gift. The beautifully crafted heart on the left side of the garment is the ideal symbol of love.

The dominating colour was orange which signifies youthfulness. It was his exclusive range with only 500 sets made and sold on February 12 itself.