Palladium metal makes Valentine's Day bright & light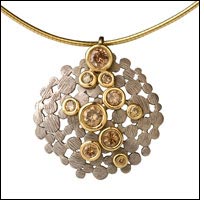 Historically, precious stones and designer names have driven jewelry purchases, but consumers are projected to increasingly base their jewelry purchases on metals as each day marks a new record for skyrocketing precious metal prices on the back of a sliding economy and fluctuating supply of natural resources.

This is but one of a confluence of factors generating the perfect climate for a reintroduction of Palladium into the global marketplace.

Far from new, Palladium is a platinum group metal that is mined naturally white - directly from the earth - and slated as the last major development in precious metals.

A beautiful, light element that is truly rare, Palladium is currently trading at roughly half the price of gold. In contrast to unnatural "white gold," which is plated with rhodium to appear white, pure Palladium shines naturally white forever with no need for plating.

With Valentine's Day approaching, forward-thinking consumers can avoid the 'traditional vs. modern' dilemma by choosing fine jewelry crafted from Palladium, which fuses the best of both worlds.

Already Palladium is becoming a material muse to the biggest names in fine jewelry and couture fashion. Tastemakers who recognize Palladium's power to creatively stand out are eagerly taking advantage of this first-mover opportunity.

"Palladium is going to explode into our industry unlike anything we have ever seen before," says Scott Kay, a fine jewelry specialist and key pioneer in precious metals. Every style in Kay's bestselling U.S. bridal collection is already available in Palladium.