Nuance enters German market with CULT & Young Fashion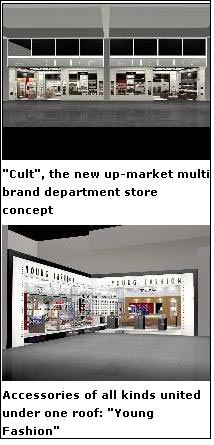 The Nuance Group announced that it has reached a preliminary agreement with Hamburg Airport to operate 850 square metres of fashion retail at Hamburg Airport's new Airport Plaza shopping precinct scheduled to open in late 2008.

The offer will comprise exclusive high-end ranges as well as a very fashion-conscious casual offer, targeting customers of all age groups and tastes and designed to make Hamburg Airport a place to look for the latest and best in fashion retail.

Especially designed for Hamburg Airport, the 200 square metre "CULT" up-market multi-brand department store concept will accommodate high-end fashion and accessories brands under one roof. Amongst others, the concept will feature Bally and Escada in their dedicated shop-in-shop environment.

The second new concept especially developed for Hamburg Airport is "Young Fashion", an accessories concept covering 130 square meters. The store is revolutionary in that it houses fashion accessories of all sorts under one roof. Sunglasses, fashion watches and jewellery as well as handbags by the world's most iconic brands – they are all presented in their distinct brand environment through a cleverly-designed shop-in-shop approach.

Nuance plans to complement these department store style outlets by a range of fashion mono brand concepts carefully tailored to suit the taste of the target customer group frequenting the airport, bringing the total area of shopping space dedicated to fashion and accessory retailing and operated by Nuance to 850 square metres.