New Fairies virtual world officially unveiled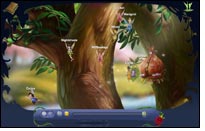 At the 2008 American International Toy Fair, Disney Online officially unveiled the next exciting addition to the company's line-up of virtual worlds – Disney Fairies Pixie Hollow, based on the wildly popular Disney Fairies franchise. Visitors to the new online world will be able to explore the homes and meadows that make up Pixie Hollow.

Fans will play and chat with Fairy friends, go on quests for Tinker Bell, play games, earn badges, craft jewelry and clothes and personalize their Fairy world.

The first phase of Pixie Hollow is scheduled to launch later this year, followed by a continuous roll out of in-game enhancements and product features.

"Disney Fairies has proven to be one of the company's most successful franchises and we are excited to give fans the chance to live and play in the magical world of Tinker Bell by bringing Pixie Hollow online," said Steve Parkis, senior vice president, Disney Online. "Fans have already created millions of Fairy avatars on DisneyFairies.com, making it evident that there is a strong desire for additional content around these beloved stories and characters."

In 2007, the Disney Fairies franchise generated more than $800 million in global retail sales with a wide range of Disney Fairies products that have captured the imagination of girls worldwide. Also unveiled at the Toy Fair event was an innovative new line of Disney Fairies Internet-connected toys featuring Clickables technology.

The products will be the first to link online play within the Pixie Hollow virtual world to play in the real world. The new Disney Fairies line featuring Clickables technology will give girls new ways to extend their online experience by sharing Fairies, creating friendships, earning in-game items and unlocking exclusive content through traditional toys.