GDS/GLS - prestigious event for a dynamic industry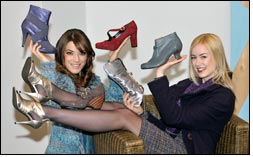 The international shoe fair GDS/GLS from 14 to 16 March will feature a sizeably extended exhibitor spectrum. Likewise, GDS/GLS has also experienced another quantum leap in terms of exhibitor quality.

Including the sourcing fair global shoes & accessories, a total of 1,365 exhibitors (correct as of 20 February) will be showing their new shoe and bag collections for Autumn/Winter 2008/09 as well as trends for the current season at the Düsseldorf Exhibition Centre.

Taken together the Düsseldorf shoe fair trio has grown by 2%. GDS/GLS alone posted a 13% rise in exhibitor figures (all data refers to the previous year's event).

Premium area continues to post strong growth:
Demand in the premium area of GDS/GLS remains as high as ever: With now 224 exhibitors the Exclusivity segment and its concept areas 'prime square', 'white cubes', 'the pulse' and 'exclusivity concept' have grown by 3%.

In addition to such regular exhibitors as Aldo Brue, Attilio Giusti, Baldinini, Barker, Lottusse and René Lezard brands like Henry Kayes, Italigente, Lacoste Paris, Pollini, True Religion and women designers Celine Lafont and Helene Steensby will be welcoming their international clientele to Halls 9 and 17 for the first time now.

Click here to view more:

Summing up the developments in GDS/GLS at the opening press conference, Project Director Kirstin Deutelmoser said: "We are delighted with the extremely strong interest taken by really good prime brands.