Damas opens cache of delightful jewels for Mother's Day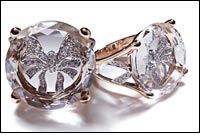 Damas, the leading international jewellery retailer in the Middle East, offers exciting gift ideas from some of the world's best jewellery houses this Mother's Day.

Delight the most important woman in our lives with exclusive pieces rings, pendant chains, earrings, bracelets and necklaces that will definitely add a touch of drama and elegance to her outfit for any occasion.

Does she love flowers? Then Annamaria Camilli's Blossom Gem Rings and pendants are for her. Hailed as the "Lady of Flowers," Cammilli creates jewels that reiterate the mesmerizing power of blooms that put everyone under a spell. These stunning pieces are designed to sweep a woman off her feet.

Daniel K's flower right hand ring and earrings offer a modern take on the floral motif for the contemporary woman. The New York-based jeweler offers new and highly stylised fine diamond jewellery combining handmade platinum settings and diamonds. He continues to amaze jewellery lovers with a sparkling treatise of his favourite stone – the diamond -- displaying awesome and incredible craftsmanship.

Calgaro, the Italian jeweller best known for its gold crochet designs offers Diva - a collection made in 18 kt gold crocheted texture and adorned with diamonds set maxi-links.

Considered as the most precious weft & warp textile existing, the Calgaro 18 kt gold crochet is the outcome of a virtuous ancient weaving technology. These pieces are unique and entirely hand-made, meant to adorn the special lady in your life.

Baraka offers a unique selection of fine jewellery for women to complement its equally famous men's jewellery line. Backed by three decades of know-how on the techniques, materials and craftsmanship that define fine jewellery, Baraka is an important benchmark in its field and offers for Mother's Day its Moon ring and necklace in pink gold with mother-of-pearl and diamonds. The twin set will definitely impress the lady of the house!

For its part, Mimi, whose charming and endearingly cute name means 'beauty,' unfurls a paradise of creations that will definitely thrill mothers, or any stylish woman for that matter. Its Adamas collection, which is the Greek term for diamond, has long been considered the gem symbol of romance and eternal love.