Monkee's of Lake Norman to open a store at Harris Teeter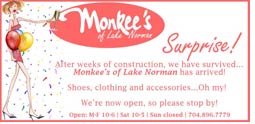 Designer shoes, clothes and accessories are no longer a road trip away for women living in the Lake Norman area. Monkee's of Lake Norman offers head-to-toe trendy chic andfashion- forward solutions directly off Interstate 77 at Exit 30 in the new Harris Teeter shopping center.

Ladies who are searching for the perfect outfit will find everything they need at Monkee's, from footwear and tops to earrings and handbags. And, it's all available in a fashionable, yet relaxed environment.

"The store is designed to invoke your chic mother's walk-in closet," said owner Sandy Bowers. "The atmosphere exudes Southern charm and hospitality with a healthy dose of high fashion."

Monkee's of Lake Norman will celebrate its official grand opening March 28, but you can peek in early for an exclusive preview.

Store hours are 10 a.m. to 6 p.m. Monday through Friday and 10 a.m. to 5 p.m. on Saturdays. Customers can also make an appointment with the Monkee's girls for a personal fashion consultation.

The line of independently owned stores began in Wilmington in 1997. Since then, it has grown to include more than 18 locations in five states throughout the Southeast.

Although the number of boutiques has increased considerably, owners still make it their priority to create a welcoming
place to shop.

"Service is the hallmark of our tradition," said Bowers. "We love helping others feel good about what they're wearing. And, ultimately, we want our customers to have enjoyed themselves when they leave our store."