Graff offers stunning array of white diamonds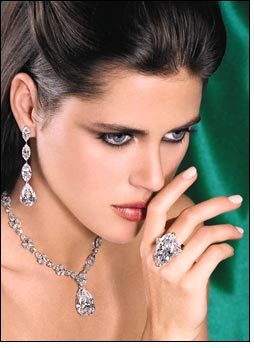 Graff, the purveyor of the world's finest diamonds, offers some of its most memorable jewels, finely-crafted necklaces, bracelets, stud and drop earrings and rings, in its white diamond collection.

Fashioned entirely from its favourite stone of all time the white diamond and combining an exciting, intriguing blend of cuts from emerald, marquise, pearshape, round to trilliant, Graff once again surpasses itself with masterful craftsmanship and the use of the most precious materials.

Each of the jewels offers a bewitching display of Graff's famous ability to draw out the latent fire from the depths of each stone, with brilliant effect.

And it does this through a perfect combination of cut and carat, colour and clarity – aspects for which Graff is recognized as unrivalled.

Graff jewels splendidly epitomize the design house's drive for excellence and perfection. Blending beauty with precision, one look is all it takes to be floored! The entire collection simply mesmerizes its viewer with the combined power of its wattage as light ray after light ray creates a dazzling aura of enchantment.

Take for instance its drop-gorgeous earrings entirely crafted from marquise and pear-shaped diamonds in delicate three-petal assemblage and matched with a fancy cut diamond necklace 48.87kt with 38.13kt 'D' flawless diamond drop.

When worn together, both jewels demand you design your dress around them. Each is complete as a jewel that can be worn on its own and enhances the beauty of its wearer no end.

For those seeking a subtler earring for daily wear, Graff offers a smaller version in a combination of white marquise, pearshape and round diamonds with emerald cut diamond drops in a caratage of 17.74.