Gunjan Jewels to distribute gold & silver jewelry of Pranda in India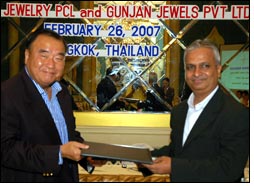 Pranda jointly invested in India by driving forward the gold-silver jewelry market. It is indicated as the big market with high gems and jewelry consumption and set the goal of the internal rate of return from its investment at the rate of 15% per year.

News report of Pranda Jewelry Public Co Ltd disclosed that Pranda enter to jointly invest in India in order to incorporate Pranda Jewelry India Pvt Ltd with its registered and paid capital for 22,000 Million US Dollars.

For the investment ratio of Pranda, the ratio is 51% and Gunjan Jewels Pvt Ltd.'s ratio is 49% by calculating as the capital of Pranda for 11,200 Million US Dollars which will have the capital increase as per the necessity of the business operation in the future in order to distribute the gold and silver jewelry in India.

The Company anticipates that through the 3-year period of investment, the internal rate of return is at the rate of 15% per year.

However, the investment in India above, now the company has no plan of creating a factory of producing gems and jewelry because the rate of customs duty of importing the gem and jewelry product between Thailand and India is adjusted to decrease 0% which is in compliance with the frame of FTA in the year 2007 and also the present time, Pranda has the factory of producing jewelry in Thailand, China, Indonesia and Vietnam with its performance capacity or producing the qualified products and reasonable price level to distribute in India's market.