BooTay develops Body Shape Jean concept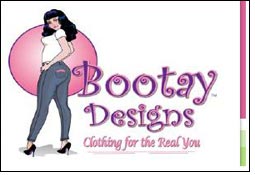 BooTay Designs recently introduced The Body Shape Jean at both MAGICMarketplace in Las Vegas and Orange County's largest business mixer.

"The response has been overwhelmingly positive," stated the company's Founder and CEO, Sofie Wann. The concept of The Body Shape Jean was developed out of the need to address the unique body shapes of women.

"We need to celebrate our differences instead of trying to fit into jeans designed with merely one body shape in mind."

While attending the MAGICMarketplace BooTay Designs had a chance to talk about The Body Shape Jean with a former Vice President of Levi-Strauss who commented, "It's a great idea."

There will be four styles of jeans available that will flatter and fit apple, pear, and proportionally shaped women.

These jeans will be accompanied by seven beautifully designed tops and six graphics tees that offer a fun, flirty, feminine look with remarkable comfort.

The consumer is the primary focus, "each consumer will continuously be heard and portrayed through the clothing, because after all you are the amazing women wearing them," states Taylor Jones, President and Creative Director for the company, "Women want to know when these jeans will be available."

On a recent trip to New York, Senior Designer, Jackie Oelschlager (a.k.a. Jackie O.), had a meeting at Elle Magazine.

A source at the magazine was so impressed with the designs that she has expressed interestin doing a feature spread in Elle Magazine.