Intl demand adds luster to lac jewellary sector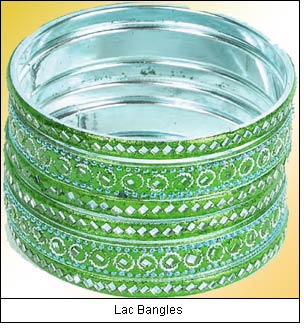 The riot of colours in sarees and dresses, stone studded ornaments and lac bangles of Rajasthan have ruled the hearts of innumerable women for decades.

The capital city, offers enormous range in jewellary in lac, right from beautiful bangles to lovely pendants and necklaces all excel in terms of fine detailed designing and selection of colours.

Looking at the current trends in the local as well as domestic market, the craftsmen of Jaipur have done lot of experiment with lac. One can find jewellary box, pen holders and other gift articles that are being picked up largely by tourists as souvenirs.

The hard work of artisans has made lac ornaments popular even in elite markets of European and other nations. The increasing popularity and keen interest of global customers is seen as a big thing by local enterprises.

Not only people associated with this sector are happy to see their products being flaunted by foreigners but it has made the entire state proud of its rich and exquisite lac jewellary.

Jaipur annually contributes nearly Rs700-800 million in the overseas earning of the nation. Presently, more than 5,000 families in the city are engaged in ornament making.