Monica Lopez to be the next David's Bridal Glamour Girl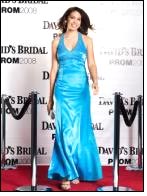 Following a nationwide search to find the ultimate prom-goer, the David's Bridal "Glamour Girl" contest culminated this past week with Nigel Barker, everyone's favorite "America's Next Top Model" judge and celebrity fashion photographer, crowning a winner.

The noted photographer partnered with David's Bridal, the leading bridal and special occasion authority, to give one lucky girl the opportunity to be the subject of a celebrity-style photo shoot with Barker and to receive the prom dress of their choice.

Monica Lopez a senior at DeBakey High School for Health Professionals in Houston, TX was selected from over 25,000 entries submitted to davidsprom.com by contest hopefuls.

The deserving high school senior was chosen by the leading photographer who shot the David's Bridal prom campaign and served as their spokesperson based on her presentation style, creativity, fashion sense and overall personality.

Citing her inspirations to become a model or doctor, Monica stood out from the competition because of her strong commitment to volunteer work, as well as integral role as the editor-in-chief of her high school yearbook.

After narrowing down the impressive "prom court" to 10 semifinalists, Monica was then chosen as one of three finalists, following an online vote on davidsprom.com.

She clinched the grand prize spot after charming Barker during a phone interview. To inform her of her win, Monica received a surprise phone call from Nigel Barker himself while shopping for her prom dress at the Houston David's Bridal location.