D'damas Glitterati wishes luck to Kolkatta Knight Riders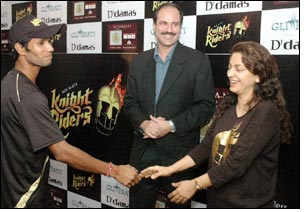 Glitterati by D'damas, wished the Kolkatta Knight Riders Good Luck, in a novel way, by presenting each member of the Kolkatta Knight Riders team a gold chain and a gold coin.

Thus commencing the celebrations for the auspicious occasion of Akshay Trithya, a festival where it is a ritual to buy gold as a sign of health, wealth and prosperity.

Glitterati collection from D'damas reflects the personality of the stars and is a personal statement crafted in a style that combines traditional Indian motifs with international settings.

Cricket and Bollywood have a cult status in India; the Knight Riders is a marriage of the two and an ideal platform for Glitterati to associate itself.

Glitterati by D'damas has a long association with the Kolkata Knight Riders, it has designed a special 18 carat gold plated helmet trophy that shall be presented to the man of the match for each of the seven home games, that shall be played by the Kolkata Knight Riders in Kolkatta.

Glitterati Group has also designed 24-carat gold plated helmet trophy for the Knight Riders. A replica of the same created in gold and diamond shall be auctioned at an event, the proceeds of which shall go to charity.

The auspicious occasion of Akshay Trithya is symbolized by the buying of gold and jewellery. To augment this D'damas has various offers On Purchase of D'damas Diamond Jewellery worth Rs.7, 500/- to Rs. 20,000/- get a 0.5gms Gitanjali Assurance Gold Coin free.