Minas Trend Preview exceeds expectations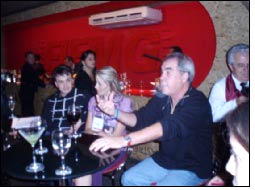 The 2008/09 spring/summer edition of the Minas Trend Preview, held April 29 to May 4, in Alphaville – Lagoa dos Ingleses, in Belo Horizonte, was a success according to organizers and exhibiters.

According to the president of the Federation of Industries for the State of Minas Gerais (FIEMG), Robson Braga de Andrade, this edition exceeded expectations and received approximately five thousand visitors including national and international press and buyers.

He says "the acknowledgment of the unions linked to the Fashion Industry Chamber, the public and press makes us certain we made the right choice by creating this event."

FIEMG held the event, which was organized by Dupla Assessoria. ABIT, through Texbrasil, a program developed in partnership with Apex-Brasil, supported the event by bringing international journalists and buyers. In the picture, FIEMG's lounge.

Budgeted at R$ 3.5 million, this edition of Minas Trend Preview occupied an area of eight thousand meters. The attractions included two exhibits, lectures, a hall for fashion shows that hold 500 people and 110 brands from the main states in Brazil.

Another novelty incorporated in this edition was the fashion show held in partnership with Oi, the telephony operator, at the Palace of Arts. Oi Fashion Music, an event created and organized by Dupla, intends to underscore fashion as a part of culture and cultural leisure.

According to Eloysa Simão from Dupla Assessoria, who also produces Fashion Rio and Fashion Business, besides repositioning the state as one of the main fashion centers in the country, Minas Trend Preview follows a global model, because in the main international fashion markets, the transition collection is much more than a simple trend and become a reality.