LA-based Giantto Group continues to grow internationally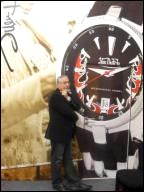 The Giantto Group, a prominent Los Angeles based Jewelry Company specializing in original custom jewelry and exclusive timepieces, launches and expands the entire brand Giantto Timepiece collection world wide.

As per arrival from Basel World 2008 in Switzerland, the leading event for the watch and jewelry industry where many world-famous brands choose to show their innovations and developments with the current trends, the reaction was outstanding for The Giantto Group.

Customers from all over the world visited the presentation of the latest creations of both brands Giantto and Von Dutch Watches.

Giantto Titanic III Rose Gold, Titanic VII and Von Dutch limited edition Jimmi Hendrix, endorsed by the Authentic Hendrix LLC, were just some of the latest additions to the collections offered by The Giantto Group and was introduced to display to the international market.

Their timepieces and jewelry are worn by the Who's Who of the entertainment world. The reaction from retailers and wholesalers was outstanding and the collection received rave reviews and very positive feedback especially from countries all over Europe, the Middle East and the rest of UAE. The Giantto Group now launches offices in central Dubai.

GG, the creative force behind Giantto and Von Dutch line of signature Swiss Movement timepiece, debuted his distinctive interpretation of the modern timepiece, the culmination of a lifetime of experience, artistry and tradition.