Cleo and Patra collection from Crocs for hot Indian summers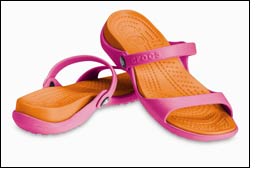 CROCS Inc the pioneer of a new breed of comfort footwear and the world's fastest growing footwear brand has launched two stylish footwear: Cleo and Patra for women. This colorful and stylish range of footwear is ideal for the hot Indian summer and can suit any wardrobe.

The strap pivots for customized fit and added support. Cleo is available in 9 two tone combinations, including Black / Black, Black / Charcoal, Black / Lavender, Chocolate / Cotton, Chocolate / Khaki, Fuchsia / Orange, Khaki / Khaki, Pearl / Celery, Turquoise / Sea Foam.

It also also has slender footbed and two stylish straps with colorful two-tone combination: Black / Black; Chocolate / Chocolate; Chocolate / Sea Foam; Khaki / Pearl; White / Celery; White / Orange; White / Sea Foam

Cleo and Patra, the stylish and high performance footwear have double-cushioned support and are slip resistant that will keep the wearer in comfort throughout the day.

The circulation nubs stimulate blood flow, and the foot bed conforms to the natural shape of the foot creating a custom fit.

Cleo and Patra like all Crocs footwear, features Croslite, a proprietary closed-cell resin that represents a substantial innovation in footwear.

The Croslite material makes all CROCS footwear soft, comfortable, light-weight, non-marking, odor-resistant and provides a superior grip.

These unique elements make CROCS footwear ideal for casual wear, as well as for professional and recreational uses such as rafting, hiking, gardening and working in hospitals.