FWTT a smashing hit among fashion lovers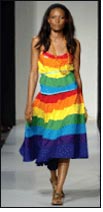 Fashion Week Trinidad and Tobago (FWTT), that was scheduled from May 26 to 31 had turned out to be a visual treat for fashion lovers. The event was organized by Radical Designs at Adam Smith Square, Port-of-Spain. The theme 'Keeping the fashion industry alive in T T' was apt, as the sector is still at its initial stage and has lot of scope to flourish.

The six days long fiesta was the first fashion week of the nation. It had grand display of collections by established designers as well as upcoming talent from wide Caribbean region.

Renowned designers such as Sonia Mack, Peter Elias, Meiling, Claudia Pegus, Heather Jones and Francis Hendy, who have received lot of appreciation and recognition in the fashion industry for their work, had graced the occasion by showcasing their latest creations.

The designers who enthusiastically participated in this show, attracted international buyers and fashion media that generated lot of buzz for sector. It also brought into notice the excellent craftsmanship the domestic designers have among global visitors.

All sectors of the fashion industry right from hair stylists, make-up artists, models, photographers to cosmetic producers and accessory manufactures got chance to display their stunning and stylish work at FWTT.

To attract larger number of people and make the fashion week popular, many events were organized included musical performances and art displays at Smith Square.

Looking at the positive response this event has received from spectators, the organizers are anticipating a bigger and better show next year.