Bangalore Airport gets French Connection!!!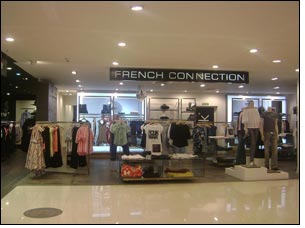 French Connection, Britain's leading hi-fashion brand entered Bangalore city with the launch of its first store at Lifestyle Oasis followed by its second store at the Bangalore International Airport. Launched in India by the Murjani Group in April 2007, French Connection, now has 10 stores across the country.

Announcing the launch of the first store, Bhavna Darira, Marketing Head, Murjani Group says, "Bangalore is an important city for us and we have aggressive plans for the brand which includes launch of 6 stores by the end of 2008 -09.

Being a fashion conscience destination, with the launch of French Connection, we are confident of creating a strong connect with the consumers who resonate with the brand in being edgy, stylish and discerning."

With 800sq.ft of shopping space, French Connection at Lifestyle Oasis introduces the Spring Summer 08 Collection, the first of four collections for the year.

Women can indulge in decades of style inspired by the romanticism of the 70's, casual sports layering of the 80's to touches of modernism, reminiscent of the early 90's.

Dresses lead the way in an array of shapes and styles while laid-back tunics come in graphic prints and delicate florals. The kitsch collection for women is structured by classic wardrobe staples, giving the season a timeless feel.

Accessories compliment the diversity of the collection, bags for girls are oversized in metallic bronze and silver and high shine pvc, shoppers come in colourful sheer plastic with matching belts.