Dutch fashion shimmers on summery Mode Marché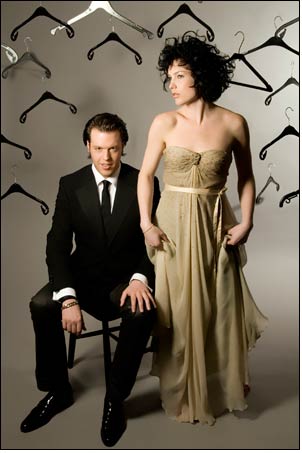 Sunday June 29 Mode Marché's fourth edition will take place in Rotterdam, the Netherlands. Mode Marché is a unique stock sample sale with an approachable and stylish character, where young and established fashion designers sell their ready-to-wear and couture collections, accessories, fabrics and samples to eager fashionistas.

This fashion event has brought together a unique selection of designers and creative spirits and has developed itself into THE Dutch sample sale. Mode Marché is an independent initiative of Iconique Fashion Magazine and Stylevation Army.

Ever since its first edition the event has drawn a lot of attention, both from within the Netherlands as from abroad. Organizers Esme Umarella and Joost van Gorsel: 'The power of Mode Marché is presenting Dutch fashion talent. Twice a year we bring an inspiring cross-section of Dutch designers together. Visitors get to know the designers and can buy their favorite outfits for accessible prices. The fact that most designers themselves are present makes it even more special.'

Numerous fashion designers already applied for a stand at Mode Marché, including the regular participants such as Corsage, Emily Hermans, Jeroen van Tuyl and Madé. Mode Marché is also the ideal event to buy some spectacular summer outfits: silk dresses from Marcha Hüskens, sexy swimwear from Kymare and Der Kommissar, jewelry from Martine Viergever or the collection from Rianne de Witte.

The event also welcomes her first international label; Noir from Denmark. Trickle Down Fabrics will sell their fabrics to those who want to make their own special outfits. Niels Brinkman, Nada van Dalen and Daisy Kroon, all last year's Willem de Kooning Fine Arts Academy graduates, will sell at Mode Marché as well. They created a stir at the 'Best of Dutch Graduates Show 2007' at the Amsterdam Fashion Week. More than 40 designers will sell their designs and everyone, man or woman is sure to find something!

To complete the new bought outfits, visitors can make their way to the stylists from Rob Peetoom Hair + Make-up. A fast hair cut, Redken styling tips & tricks or an Anastasia brow-treatment are only a few of the many possibilities in the special 'Chambre de La Coiffure' by Rob Peetoom Hair + Make-up during the Mode Marché.

MMM - Mode Marché Magazine
For the fourth edition of Mode Marché Esme Umarella and Joost van Gorsel will introduce MMM, Mode Marché Magazine; a small magazine with exclusive photo shoots, interviews and reports that will take visitors into the world of Mode Marché, its participants and the organization.

The magazine reinforces the event's ambition to offer its visitors a truly unforgettable experience and serves the purpose of giving the city of Rotterdam a stylish impulse in the domain of fashion. This free magazine can be obtained only during Mode Marché and is in limited circulation! Don't miss it!

The fourth edition of Mode Marché willland at the atmospheric Westelijk Handelsterrein. The renovated warehouse complex from 1894 is located in the beautiful Scheepvaartkwartier and breathes the atmosphere of a historical film.