Celebrate fashion in today's inflation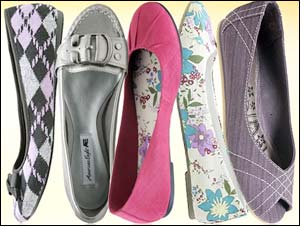 This fall, students will return to school in high spirits sporting the latest must-have shoe and accessory trends such as plaid flats, argyle backpacks, graphic and high-top sneakers, moc-toe loafers, peep-toe and ballet flats, mary jane heels, wedges, and vintage-inspired pumps.

At prices averaging under $20 each, kids and teens can ring in the new school year outfitted in the latest brands and trends and still celebrate fashion in tight economy courtesy of Payless and its mission to democratize fashion and design in footwear.

Payless ShoeSource is bringing shoppers the latest styles at unbeatable prices, including its Designer Collections, which hit the runway at New York Fashion Week and include such labels as Abaete for Payless, Lela Rose for Payless, and Alice + Olivia for Payless.

The company has also secured its position as a "House of Brands" retailer with an expanded portfolio of well-known brands now offered at Payless stores including Airwalk, American Eagle, Dexter, Champion and Dunkman.

"We are committed to delivering fresh, fashion-forward branded products that channel youthful energy and individuality," said Matt Rubel, chief executive officer and president of Payless ShoeSource.

"There's no better time to shop at Payless than in tight economic times. With the arrival of our back-to-school collection featuring top brands like Airwalk and American Eagle, not only will trend- and brand-conscious kids step out
with confidence, but parents can feel assured they are getting a great value that won't blow their already strained budget."

The Payless back-to-school collection features the latest trends including:
- Silhouettes - high-top sneakers, slip-on slides, moc-toe loafers, ballet flats, peep-toe flats, platforms, pumps, mary jane heels, wedges and flats
- Colors & Patterns - cream, hunter green, vintage plum, muted gray, classic black, fire engine red, plaid and argyle
- Materials - canvas, high shine patents, sparkly finishes, tweed
- Details - bows, studs, pleating, straps, buckles, chop-outs, frayed edges

Coordinating handbags and clutches come in structured shapes and feature the most popular fall materials such as patent and plaid. Sturdy backpacks with multiple zipper and buckle pockets provide plenty of storage space for the student on-the-go.

Sporty teens seeking to add edge to their wardrobes can kick it in Airwalk's high-tops or graphic-canvas slip-ons, while the Designer-obsessed can score runway-worthy looks with Payless' Fall 08 Designer Collections, due to hit stores in the coming weeks. The line reflects styles straight from the fall runway shows at New York Fashion Week.

Payless Fall Designer Collections:
Lela Rose, Laura Poretzky, and Stacey Bendet are Payless Guest Designers select fashion designers that create designer footwear and accessory collections featuring the latest runway looks, which Payless brings to its stores at affordable prices.