Unzip sneaker & make it a sandal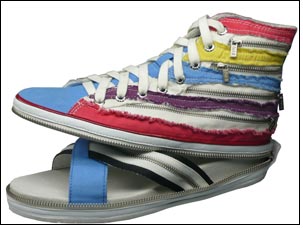 Nat-2 is nominated for the highest internationally appointed design award 2009 Design Award of the Federal Republic of Germany, which is initiated by the German Design Council as well as the Government of Economy and Technology.

Nat-2 is a brand of German company K&T, it was founded in 2007 by Sebastian Thies and Stephen Yeung in Munich, Germany. Since then, the sneaker and accessories label has become one of the most innovative brand within the industry. With the first international patented 2 in 1 Sneaker system, Nat-2 sets new heights in fashion industries creative competition.

Nat-2 has been the winner of 'Innovation & Design Award 2007 by KENT', Zurich, Switzerland as well as the 'Ispo Brand New Award Style Accessories 2008', Munich, Germany.

Nat-2 made its premiere in public in 2007 at UK fashion fair 'Margin' and the WSA in Las Vegas, USA. Followed by presentations in Bread and Butter Tradeshow in Barcelona, Spain as well as GDS's Duesseldorf Design Attack.

After two years of development, the streetwear- and fashion-brand Nat-2 presents a world patented system – the first real 2 in 1 Shoe.

The sneaker can be taken off – making a pantolette visible. Due to the variety of designs the leisure beach-style becomes an office-shoe or a luxury evening-accessory. Soft foot-beds, space-saving in the luggage, being the right shoe for every weather and every occasion makes a Nat-2 style unique.

All tops are inretchangble, which allows one to combine colours, material and style, the possibilities go up to 6 in 1.various designs are available like sneakers, sailors and boots- all with innovative details.

Every season there will be two collections for women and men. The 2 in 1 range is available in Twill, Canvas, Denim and leather. The Applications include stichings, prints, stones, and used-effects. For SS08 we have 6 Styles which can all be combined in style, colour, material. The AW 08-09 collection will have 14 styles in different versions.

The current assortment includes fashionable backpacks, sunglasses, wallets, bags with unique functional and designs for both men and women.

The shoemakers have made their mark in UK and are now focusing on the poptential markets of Italy and Russia.

The client list includes Galleries Lafayettes with headquarters in Paris and France, as well as boutiques such as Rossana Orlandi in Italy, Globus in Switzerland and Eslab in Spain.