Think before stepping into flip flops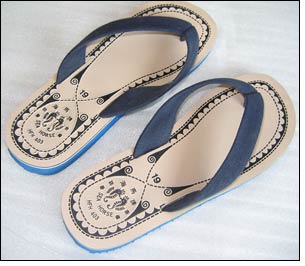 As the summer season approaches everyone starts hunting for comfortable clothes to beat the ever rising temperature. However, it is noticed that majority of people forget to pay attention to the footwear they pick up, and end up spoiling the sizzling summer spirit.

According to fashion experts while going to beach or pool side one must wear flip-flops as they do not allow water to get collected, which can cause fungal infection. It is even suggested that while at leisure one must opt for these comfortable and inexpensive pair of slippers, as they allow feet an exposure to air helping them against athlete's foot.

However, flip-flops also have certain constrain. The wearer should keep in mind not to use them while taking a long walk or performing any type of athletic activity. The reason being, these flat slippers do not have any kind of arch support, cushion on heels or shock absorption. Thus there are chances of having sprain or worse fracture.

One must also make sure not to slip them on while going on for a walk in garden area as there is a possibility of being bitten by a poisonous insect or getting cut from piece of glass or metal piece.

So now before you put on your colourful, funky and attractive filp-flops just keep these tips in mind to make the most of summers.