Look after look… unexpected from Benetton for next winter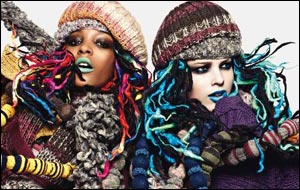 A snug embrace, an exuberance of colours, a triumph of style, an irresistible source of temptation. This is the United Colors of Benetton women's collection for next winter. Look after look, everything is unexpected, elegance, trend, originality and allure...

New Woman - The minimalist response to a legitimate desire for something new. The little textile or knitted coat is the passport to the future. Made of luxury materials, it clings to the body and complements knee-length skirts, stretch stirrup pants, cropped jackets and boleros. All in black and earth.

Sweet Military – Little roughness, lots of tenderness for the military look. There's green, there are short jackets, cargo pants, but our feminine soul surrenders to soft skirts, little dresses, crossover knitted tops, and to lilac, apricot or alabaster ponchos in soft shades.

Hot Road Folk – Demureness on a motorbike. You need full, flared skirts and little flared jersey dresses, short belted jackets. A contrasting mixture which engenders pop motifs, romantic flowers and light knits in the shades of the sunset, or asphalt black and smoke.

Box North Pole – When the frost bites, bright colours emerge and knitwear becomes a must. The latest trend in overwear is in fact for chunky knits sewn like fabric alternated with wool coats and jackets; layered, striped sweaters over ever-fashionable jeans. Wool dresses satisfy the cheekier among us.

MEN'S COLLECTION:
Wide-open spaces, vast horizons, snowy mountain chains, the valleys of the great lakes, cities of the future and those of old Europe all influence the UCB man's wardrobe for next autumn-winter.

Montreal Metropole du Quebec – Parisian chic and hi-tech simplicity for the urban man in grey and black with a few green accents. Tweed, Prince of Wales check, herringbone wools and stretch corduroy for slim-fitting clothes: long overcoats, formal suits, Jersey and knits feature small patterns . A look for the office and for the aperitif ritual.

Le Mariniers du Nova Scotia - The fragrance of sea air and grass, of pubs and ports. The sports-loving man introduces colour and heavy fabrics to his wardrobe. Pea jackets and country parkas, fustian trousers and distressed jeans, wind and cold-beating hooded pullovers with maxi collars. All in the shades of the earth and the ocean with occasional touches of orange and purple. A casual theme with a touch of formals appropriately teamed with bags, shoes & belts for that complete look.

Territoires du Nord Ouest – A mountain look, with lots of good protection against the cold, from the down coats and jackets to the faux fur-trimmed hoods. Underneath, soft sweaters with handknitted-look jacquard; heavy, accessoried trousers resistant to the cold, snow and wear. Pine-green and bark-brown with lemon-yellow and cyclamen-pink.

Brighter of all the looks, colors like bright orange break the winter monotony.