'Intoxicated' is the trend theme for 'bluezone'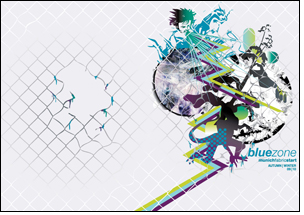 From 3 to 5 September 2008, blue zone hits the halls again. Parallel to munich fabric start – pre collections in M, O, C, the elite among international denim weavers and suppliers in the Zenith hall present "Blue Art" at its best.

61 exhibitors in the areas of fabrics, finishing and sourcing show their collections and new creations for the 2009/2010 Autumn/Winter season. Thus the trade fair maintains its position in spite of increasing international competition. Moreover, it is sold out this time around and presents market leaders such as Orta Anadolu, Hellenic, ITV and Bossa Denim to trade visitors from the European sportswear and jeanswear industries.

New on the field are the Japanese weavers, Kuroki and Nihon Menpu Textile. Bezsan Tekstil, FG Tekstil, Marassi Denim and Perateks from Turkey, as well as Absolute Denim from Thailand, complete the denim assortment.

For the first time, munich fabric start searched for cooperation with the arts - and found it. Japanese artist Yuka Oyama will participate in the design of the halls for the next event, delivering an artistic lift. Recycling sculptures and black high-tech flowers are just some of the design elements that will help create the appropriate ambience to transport the season motto "intoxicated" for sportswear and jeanswear. It's an artificial world somewhere between a studio and a laboratory.

Yuka Oyama was born in Tokyo in 1974 and studied in the USA and Munich among other places. Today she lives and works in Berlin. Her art projects shine new light on the term "jewellery" and the creative process as such. Yuka's work is performance and collective creation all at once. She decorates people and living or city spaces, and provokes though exchange in public places. Producing jewellery is a perfect activity for creative teamwork, which breaks through social barriers.

With her Jewellery Quickies project, she produces jewellery out of recycled materials to individualize the participants, and irritates at the same time by having plastic tubes or tennis racquets sticking directly to the body. Jewellery? Decoration? Art? These questions may also be asked by the visitors in Munich.

Trend theme: "Intoxicated"The trend theme that munich fabric start developed for jeanswear and sportswear for the 09/10 Autumn/Winter season is artistic and experimental at the same time. The title, "Intoxicated", combines "toxic" trends that almost conjure up a psychedelic scenario — a world between textile piles of rubbish, hazardous waste and sterile chemical laboratories. The new season cries "art & fiction", underscoring the close relationship between the jeans scene and the art scene. No room for the ordinary here. Future and trash are instigators. Graphics appeal via the "chaos factor": they pick up different themes and intertwine them. The cuts are edgy: too long, too tight, too loose, too short, too long, too buttoned-up…skin tight or oversized. Recycled materials and cyber-realism, manga comics and the street-art spirit of the snowboarding scene unite reality with virtuality.