Jewelry Career Fair & Open House to unveil Balboa Park Carousel Egg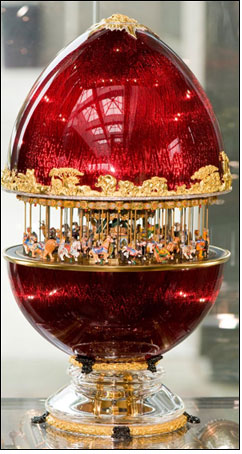 The Gemological Institute of America (GIA) announced that it will feature the Balboa Park Carousel Egg at the GIA Jewelry Career Fair & Open House on Friday, Sept. 12 at the Institute's campus in Carlsbad, California.

GIA's Open House takes place only once a year. This time, GIA is showcasing the incredible Balboa Park Carousel Egg, a large Faberge-like mechanical wonder that is an artistically intricate, bejeweled miniature reproduction of the Balboa Park Carousel. The Egg is an exact replica of the Balboa Park Carousel, prior to restorations, including the 56 hand carved carousel animals, detailed paintings, lights, trimmings, coloring and other features. This will be the Balboa Egg's first public viewing.

When the Egg is wound 34 times, it plays a repertoire of 20 songs from the late 1890s. Like all of the pieces on the Egg, its music mechanism was created by hand. The Egg took 18 years to create and its nearly 5,000 pieces are made of platinum, gold, sterling silver, diamonds and red enamel. It weighs 80 lbs. The Egg itself stands 10.5" when closed, 13.5" when open, with an 8" diameter. With its 8" base and music stand, the Egg stands a total of 27" tall.

"It is an absolute privilege to have this magnificent Egg displayed at the Institute for the very first time," said Elise Misiorowski, GIA Museum director. "This piece is a part of San Diego's history and we are honored to have it in our Museum to share with the public."

The Balboa Park Carousel Egg was commissioned-sponsored by Dr. Barry Marfleet, and designed-sponsored by Jim Grahl of J. Grahl Design. Grahl's studio provided the environment for a team of artists and experts to work together to bring the Balboa Park Carousel, a classic carousel that has stayed largely the same since 1895, into a different form of art now finally available for public display.

Grahl said, "It brings me great pride in seeing this piece completed and here now for others to enjoy. My hope is to inspire in others the creativity, determination and the willingness to become part of a team, which are attributes people need to create anything of value."

The GIA Jewelry Career Fair is happening on the same day as the Institute's Open House. This is the gem and jewelry industry's largest and premier recruiting event. It attracts up to 1,000 attendees, as well as prominent gem and jewelry companies such as Tiffany & Co., Zale Corp., and Ben Bridge Jeweler.

It is an important and unique opportunity in the jewelry world for both job seeker and employer to meet in one day, in one setting, with some of the industry's biggest names giving seminars and providing coaching on how to garner success in the field.

Attendees will also be able to view over 30 pieces of jewelry and gems from the Facets of GIA exhibit which is an overview of the Institute and its history. Classroom demonstrations will also be happening throughout the day so visitors can learn more about gems and gemology as they tour the Institute.