Landside & Express to enhance duty free offer at Sydney Airport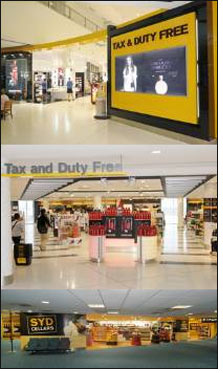 The Nuance Group unveiled its first wave of new stores as part of the Sydney Airport International Terminal upgrade and expansion. The stores are the first part of a plan to enhance the duty free offer at Sydney Airport to provide customers with a better and broader duty free offer in a world class shopping environment.

Three stores were officially opened, the Landside and Express stores under the 'SYD Airport Tax and Duty Free' banner and an innovative Arrivals wine and champagne concept, 'SYD Cellars'. The openings coincided with Australia's leading horse racing event, "The Melbourne Cup", and festivities had a racing carnival feel with champagne flowing for customers and the race shown live on the Landside store's six central plasma screens.

Each store has been designed to have a distinctive character to engage customers and provide a rewarding shopping experience. The Landside store showcases the best of the duty free offer and links the check-in area to the new Landside food court.Duty free categories are showcased in a luxurious manner, providing a taste of the offer airside and incorporating innovations such as a glamorous fragrance bar which encourages customers to try a range of scents. Meanwhile, technology, watches, sunglasses, confectionery and Samsonite store-in-store offers are pitched to both travellers and non-travellers with customers encouraged to interact with the merchandise.

The enlarged Express store uses floor to ceiling windows onto the apron to give a distinctive feel to the store and offers a broad range of merchandise including fashion and a full technology offer to customers seeking a convenient shopping experience closer to the gates.

Finally, 'SYD Cellars' puts an airport Arrivals twist on the domestic wine store with blackboards and cut carton displays emphasising the duty free value and the store focus demonstrating the range and expertise offered in wine and champagne.

Derek Larsen, General Manager, Retail for Sydney Airport Corporation Limited, welcomed the store openings: "These stores demonstrate both the higher standard of retail that the new development will bring for customers at Sydney Airport and the commercial potential of these stores for retailers."

Nuance's Sydney Director, David Odgers, echoed these comments: "We've challenged ourselves to build stores that are more relevant and exciting for customers; stores that our staff are proud of and that provide an environment where we can deliver a much better experience for customers. The result has been very positive and immediate with higher customer footfall, better conversion and higher spends - as an example the Express store has more than doubled its sales."

The Nuance Group will continue to develop its store portfolio at Sydney Airport over the next 18 months. Both Arrivals stores will be revamped and enlarged over the next few months and a bold new 3,400 square metre Departures store is scheduled to open at the end of 2009 along with a range of new specialty stores.