Damas launches Favre-Leuba timepieces in UAE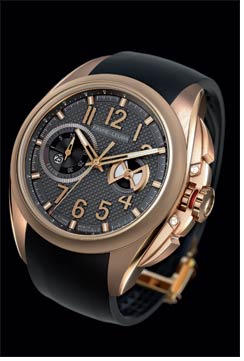 Damas, leading retailer of luxury watches and jewellery in the Middle East, launches Favre-Leuba timepieces in the UAE. The new collection presents the brand's watchmaking excellence, combining boldness and technical superiority with a truly dynamic character: a brand ideal expressed through outstanding watches that straddle the test of time.

Clément Brunet-Moret, CEO Favre-Leuba, said: "A Favre-Leuba watch reveals itself gradually, slowly disclosing its richness of detail and the excellence of its finishing. What is important for us is to remain genuinely unique and authentic.

Thus I am proud to be part of this dynamic brand which takes inspiration from its long and prestigious history. It is equally heartening to see that Damas is our exclusive partner in the Middle East which appreciates the expertise and craftsmanship displayed by the brand."

Tamjid Abdullah, Deputy Managing Director of Damas, raved: "Favre-Leuba has a long, impressive history. Abraham Favre had started making watches as early as 1718 and an official registration in 1737 declared him a watchmaker. The document represented the first major professional dedication to the art of watchmaking as well as the establishment of one of the very first watch companies in Switzerland.

Today this company has gone from strength to strength over eight generations which has been passed down from father to the son. Favre-Leuba can look back over a long and illustrious history and we are proud to be associated with it."

This season Maison Favre-Leuba presents two iconic models – the Bathy and the Mercury Chronograph FL 301. More than 40 years after its revolutionary impact on the world of diver's watches, Bathy features new mechanical functions and an imposing design. The legendary Bathy is a watch of superlatives with vigorous, contemporary lines, the Bathy is making a grand comeback, both under the sea and on land.

It is automatic and has unparalleled precision which is extended to its limits in the most extreme conditions, has impressive dimensions – 50mm in diameter and 18mm thick – and is unbelievably light. The two screw-down crowns guarantee total water-resistance to 300 metres and the case is made in Grade 5 titanium. A blend of modernity and tradition, the Bathy is a lot more than a timekeeper.

Favre-Leuba launched a new collection, Mercury, in 2007. Inspired by planet Mercury's eclipse by Venus in 1737– this collection marks the brand's return to the centre of watch stage. The Mercury collection illustrates Favre-Leuba's on-going commitment to quality and inspiration as well as its dedication to perfection.

The water resistant Mercury Chronograph FL 301 is fitted with automatic movements and additional manufactory-made modules. The Embedded Running Indicator is a two-tone counter at 3 o'clock in the shape of an hourglass, the brand's emblem, and is coupled with a seconds hand.

Partially hidden and enlivening the dial, the disc symbolises the conjunction of Mercury and Venus and reproduces the timepiece's interior power and vitality. The patented bidirectional crown locking system (B/CLS) is designed to prevent any unintentional manipulation of the crown from changing date or time.