Calgaro jewellery to satisfy tastes of an ever evolving market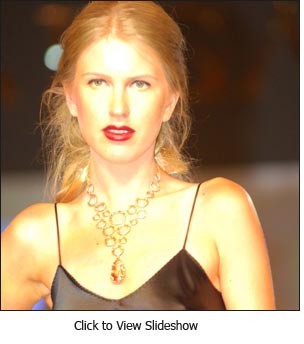 Following the successful opening of its first concept store, Via Montenapoleone in Milan early this year, the fashion-forward Italian jeweller Calgaro has announced partnership with leading jewellery retailer Damas to launch its latest collections in the Middle East.

The two purveyors of luxury raised a toast to celebrate the collaboration during an exclusive gala reception held at the gold-domed Al Falak Ballroom of Burj Al Arab. The event was highlighted by an elegant fashion show featuring the latest offerings of the brand – Soleil, DiVa, Cipria and Perfect collections.

The star of the evening, however, was the Calgaro Soleil Necklace, a finalist at the 13th Town & Country Couture Awards held in Las Vegas, USA, this year. The lavish design of hypnotic solar constellations handcrafted using 18k yellow gold and a myriad of custom-set diamonds captivated guests and further reinforced the status of Calgaro as a design leader.

Giuseppe Calgaro, President and Co-Founder of Calgaro, was in Dubai to grace the occasion. He remarked: "Since Monica Fin and I started the brand in Vicenza eight years ago, we have seen high demand for jewels that challenge time-honoured conventions. Calgaro is anchored on design innovation and cutting edge technology that enable us to capture the spirit of the times and satisfy the tastes of an ever evolving market. We are pleased to partner with Damas in bringing our creations to discerning jewellery lovers in the region."

For his part, Tamjid Abdullah, Deputy Managing Director of Damas, commented: "Research, innovation and design excellence are the hallmarks of Calgaro. It did not take long before the founders' brilliant concepts, coupled with Giuseppe's life-long experience in goldsmith art and Monica's expertise in textile, translated to inspiring jewellery that has captured the hearts of women across the globe.

Damas is honoured to represent the brand in the Middle East and we join our counterparts in Europe, the Far East and the Americas in offering our clientele rare creations that speak of pure luxury and sophistication."

As testament to its trailblazing efforts in pushing the boundaries of creativity in jewellery, Calgaro has received recognitions from distinguished international award-giving bodies such as the Gold Virtuosi Award for Design and Bvlgari Award of Excellence in 2002, and the MPP Arabia Editor's Choice Award in 2006 and the Couture Award in Design - Gold Category in 2004 and 2008.

It is in this tradition of excellence that Calgaro offers the following collections:

SOLEIL:
Inspired by the warm glow of the sun, Soleil is a red carpet collection of precious necklaces and bracelets featuring hypnotic constellations of circles in 18k gold, embellished by the glimmer of random diamond eruptions. Compelling, mysterious and almost spiritual in effect, the collection evokes the sun which ancient peoples would refer to as the 'sacred circle'.