Al Jaber unfurls much awaited D & G sunglass collection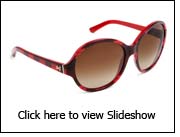 Al Jaber Trading, the leading corporate entity of the region unfurls one of the most awaited collections of the year - the D & G Sun Collection 2009. Defined by an assertive and highly refined style, this collection from the fashion forward brand boasts new and captivating designs that stand out for their elegant, wide and soft models with rounded, wrap-around shapes, designed for the style conscious woman and man. The men's Aviator models, with their new, original features are particularly predicted to be a definite favourite of the season.

"D & G is an Italian fashion house whose hallmarks have been high performance and durability. The D & G line is a more casual line of this famous brand that's inspired by the urban lifestyle and is also younger and more flamboyant. As a brand that has always set trends it has been the top favourite of the fashionable. This new Sun Collection 2008/2009 from D & G offers great styling with dynamic looks and is sure to be adored by its fans," said Mr. Ahmed Jaber, Managing Director, Al Jaber Trading.

Dolce & Gabbana was founded by design duo Domenico Dolce and Stefano Gabbana, and is based in Milan, Italy. It's acclaimed as a brand known for making 'Stars look like stars" and its famous fan clientele includes Madonna, Kylie Minogue and Jennifer Lopez.

Women's Sunglasses:
DD 3030-
This curved model combines a wrap-around shape that recalls the Hollywood style of the 60's. Its arms are adorned with the D & G logo in metal while the rounded front is elegant and superbly styled. It comes in a colour palette that includes classic black and Havana, besides three special tartan versions (grey, beige and red) recalling the theme of the D & G Fall/Winter 2008 fashion show. They are created by a layered colouring technique.

DD 3027-
Accenting a perfectly round shape, this acetate model has a written out D & G logo neatly located next to a decorative metal plaque that personalizes the outside of the arm. It is available in black and in Havana as well as the special tartan versions (red, beige and grey) recalling the theme of the D & G Fall/Winter 2008 fashion show and are paired with smoke and brown gradient lenses.

DD 6052-
This Aviator model for women has a wide shape accenting a soft design. The raised D & G logo on the outside of the arm is highlighted by the use of colours that contrast with the colour of the frame. This model features a plastic arm tip that enhances wearability and comfort and is available in gunmetal, black, gold, silver and brown and it has APX lenses that make the glasses lightweight even while ensuring excellent optical quality.

Men's Sunglasses:
DD 6050-
Inspired by the Aviator model's famous style this great model has a defined, dynamic look with metal front and acetate arms with screws positioned across its bridge which act as decoration alongwith the square D & G logo onthe arm. Its original colour palette offers combinations of gold and black and black and green Havana as well as special pairings of brown with beige tartan and silver with grey tartan. Its lenses are polycarbonate and in the gradient versions they are APX.