John Varvatos unveils F/W collection Men's Fashion Week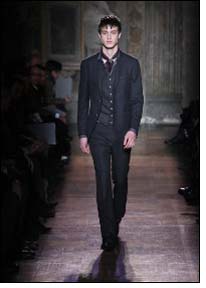 John Varvatos unveiled his Fall/Winter 2009 John Varvatos Collection on Tuesday, January 20th 2009 at Chiesa sconsacrata di San Paolo Converso in Milan, Italy during Milan Men's Fashion Week.

John Varvatos looked to rock and roll's fashion heritage to shape his fall 2009 collection, reworking it into a dressed-up line that is polished with a glamorous edge. Every element of the collection, from silhouette and detailing to proportion, is given a contemporary gloss. The palette is dark, moody and elegant. Black reigns, with charcoal, burgundy and rich chocolate accented by tones of grey and inserts of white.

Distinguished by his collections' hourglass shape, John Varvatos has softly evolved his silhouette into a more modern, sleeker profile. A slender but well-defined shoulder skims down to a nipped-in waist and a lean trouser leg that finishes with a slight flare just below the ankle.

Tailored looks come in evening structures, characterized by shawl collars, rich tweed, plaid fabrics and a cummerbund-turned-sash that sits swathed on the hips. Tonal layered suits include a double-breasted, flannel, dove grey jacket that is constructed with a contrasting darker smoke-hued flannel lapel and paired with a silvery shirt and tie. Another narrow-cut, one-button grey suit is outlined with black-tipped notch lapels and welt pockets. Vests, in crinkled wools and smooth cashmere topped with felted closures, reveal inside buttons and linings printed with a fleur-de-lys pattern. A velvety chevron design is flocked over a tweed evening jacket. White trim, button-down, spread collars top striped, patterned and check shirts. Gauzy cotton voile scarves with a floating paisley print are tied around the looks. Hats are pliable, modified felted bowlers.

Long outerwear descends to a subtle A-line and emphasizes the sleeker silhouette. Coats are double-breasted, high-collared and trimmed with antiqued metal buttons. Built-in dramatic shapes include a wool coat with a base that unzips to curled-like tails, and another take on the trench is given an inverted triangle silhouette with prominent shoulders and lithe belted hips. Modern fabrics polish up casual styles like the polyutherene coated cotton/linen parka that shimmers with a soft, cracked finish in antiqued silver, and a cotton-touch nylon jacket, padded and emphasized with an exaggerated collar and loop buttons.

Leather's long-standing fashion role in rock and roll is reinterpreted with a new sleek, elegance. A printed plaid collarless leather jacket is washed so soft it has the feel of cashmere fabric. A suede trench and a motorcycle jacket are washed to become lighter and more refined. Chocolate shearling is cut into a hooded parka with a lustrous pony skin finished exterior.

Elongated hand-finished cashmere knits trail out from shorter jackets, marking the juxtaposed proportions. Full-length dark cashmere sweaters are trimmed with horn buttons and crochet edges. Fine-rib knits and printed stripe cashmere Henleys are embellished with small metal buttons.