1,300 brands from 34 countries present at 12th CPM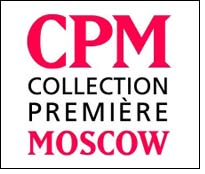 Despite the current turbulence on the Russian market CPM – Collection Première Moscow is all geared up for the 2009/2010 Autumn/Winter round of orders. Over 1,300 brands from 34 countries will be participating at Eastern Europe's leading fashion fair held on Moscow's Expocentr fair grounds from 24 to 27 February.

This turn-out means that once again visitors can expect a comprehensive and transparent overview of the current trends for next season in women's, men's and children's wear, lingerie, leather and fur clothing, bridal and evening wear, young fashion, leisure wear and accessories.

A platform like CPM offering an overview of this kind is more important than ever given the current market situation in Eastern Europe. The need for information, primarily on the part of the Russian clothing trade, and the search for practicable ways out of the crisis will be the focal points of interest for all retailers in the weeks ahead.

"Despite the current climate we anticipate no or only minimal drops in visitor numbers. The need for information in Russian retail is greater than ever at times like these," explained Igedo Managing Director Philipp Kronen at the opening press conference to CPM in Düsseldorf. "It is expected the Russians will behave very intuitively and not bury their heads in the sand. Trade fairs like CPM can and want to be impulse drivers and communication platforms especially in times like these. Today more than ever they offer all retail forms a strong platform for gathering information on the current trends, tracking down new developments, comparing goods and drawing inspiration. And even more importantly: a platform where people get talking to each other." Given that little positive news is now coming out of the former model market of Russia, information for retail counts as one of the most pressing functions of a trade fair, Kronen continued.

For this reason the Igedo Company, in cooperation with the Russian retail association A.P.R.I.M., has extended the "Russian Fashion Retail Forum" programme. In around 30 seminars and workshops Russian and international sectoral experts will inform visitors on highly topical themes. Obviously, some of the events pick up on the current economic situation and present possible solutions out of the crisis. Attendance at the "Russian Fashion Retail Forum" is free of charge for all visitors to CPM therefore offering a real added benefit. The supporting programme is rounded off by a variety of different fashion shows.

Wide Fashion Range in the Halls of CPM
This season, too, buyers will benefit from the international portfolio of brands featured at CPM. Newcomers to CPM in February include brands like Lubiam, Laura Biagiotti Uomo, Versus, Liu.Jo, Licona, Nodus, V. SP of Vesucci, Joutsen Finland, Ril's, Custo Barcelona and Sita Murt.

The list of exhibitors at CPM features many internationally renowned brands. Included in the women's and men's wearsegment are strong retail brands like Luis Civit, Caramelo, Dikton's, Toypes, Alba Conde and Miguel de Luna from Spain, Gemmi Furs, Luhta, Nanso and Finnkarelia from Finland, Bogner Jeans, Falke, Bugatti, Mac, Lagerfeld, Brax and Steilmann Osteuropa from Germany, Gestuz, Ichi, Falbe, Sunwill and Frank Q from Denmark, Marina Yachting, Harry & Sons, Fontanelli, Le Fate and Braccialini from Italy plus many more.