munichfabricstart stands its ground in difficult climate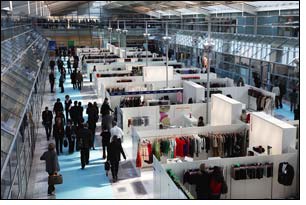 Kicking off the S/S 2010 fashion season, the 26th munichfabricstart – pre collections held at Munich's M,O,C, from 3 to 5 February 2009 closed on a slight plus. On three days the German textile fair registered 14,350 visitors (February 2008: 14,200) who perused the fabrics and additionals collections for the 2010 season at the M,O,C, and the Zenithhalle. It was especially the strong attendance on the second and third day that "blessed" the trade fair with its continued high number of visitors. Alongside buyers and designers from Germany companies and creatives from 56 different countries did visit the trade show.

With more than 30% foreign visitors, munichfabricstart once again underlined its growing internationality. Time and again the 760 exhibitors stressed the high quality of visitors who included not only the complete line-up of German ready-to-wear manufacturers but also representatives of such Italian design houses as Max Mara and Armani.

The concentration of exhibition dates since early January, the overlaps with Ispo in Munich, the Igedo Fashion Fairs Düsseldorf and the Milano Unica plus a strike of public transport workers in Munich on the first day of the fair resulted in this concentration on the last two days and in many companies sending several smaller teams of buyers.

The trade fair had also been awaited "with bated breath" since the international textile sector is struggling with the global economic and financial crisis. The bottom line is that the prevailing mood was good against expectations although weaving mills, print shops and additionals specialists were faced with shrinking export markets and highly worried and cost-conscious customers. Nevertheless, Germany is regarded by many foreign companies as a relatively stable market with "light at the end of the tunnel" considering such faltering export markets as the US or Spain and Italy.

aMAZEing: the trends for S/S 2010
Across all genres natural-fibre fabrics both pure and in mixtures were clearly on the incline. This trend starts with many linen materials and goes all the way down to wool and cotton including even bamboo. The latest favourites include ramie, for example. Re-interpretations of linen such as in blends with viscose provide fashion with a basis for new shapes. In general, highly researched mixtures and finishes make sure that especially natural-fibre based fabrics are always functional and fit for use. Fine yarn counts, special finishes and blends give them an aristocratic lustre.

Linen may feature exquisite wrinkles but must not produce an "accordion look". Wools either come in extremely fine yarn counts and/or with polyamide or polyester admixtures. Labels are made of matt fleece materials featuring a photo print of wrinkled paper. Even the man-made materials adjust to this natural look featuring a dry touch or crushed effects, for example.

Alternatively, they go to futurist extremes, are utterly shiny, shimmer like liquids or come with metallic coatings. Matt/gloss effects, silky shines, satin lustre, metallic fancy and embroidery yarns make for a glamour that promises elegant understatement. Plastic-filled buttons with metal framing are lasered with loving attention to detail prior to being coated with transparent lacquer.