Lindsay Lohan to launch line of fashion clothing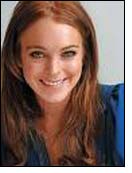 Lindsay Lohan, the famous Hollywood star of many a movie has decided to introduce and expand her fashion portfolio by introducing a range of clothing in the next two years. Meanwhile, last year, the star had launched her own line of leggings, but introducing a fashion brand is one step further.

She was quoted by the Daily Express as saying that she would be involved in lots of fashion clothing in 2011. Lohan's range of leggings has been well accepted by the consumer's despite the high price tag, which may have inspired her to take this step.