20 Femina Miss India contestants move closer to 'Live the Dream'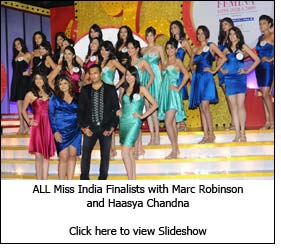 The talented and glamorous finalists of Pantaloons Femina Miss India (PFMI) 2009 were unveiled amidst much fanfare. Out of all the 64 aspiring contestants who were present at the Regional Rounds, 20 stunning beauties finally made it to the top. These divas come one step closer to 'Live the Dream' – of winning the most coveted title – and would compete for the crowns on the Grand Finale stage.

The 20 finalists from across India sizzled on the ramp with the show choreographed by none other than Marc Robinson (Fashion Director and Contestant Director, PFMI 2009).

The gorgeous ladies were attired in cocktail dresses designed by renowned fashion designer Haasya Chandna. Her collection for the future Miss India's was designed keeping in mind each ones personal attributes. The hues, the textures and cuts of each gown made every contestant stand out as an individual, exuding confidence of looking and giving their best in their quest to win the most coveted title of Femina Miss India's pageant.

The collection boasted of cocktail gowns woven in satin, enhancing eclectic hues of electric blue, sea green, wine pink and black. It emphasised on flowy textures, each cut to perfection. The aesthetic makeup was done by Vivian D Silva, Make up Expert from Make up Forever. The Hair styling was done by Najeeb Ur Rehman – Chief Colour and Styling Consultant from Schwarzkopf Professional.

Adding glamour to the grand evening was the unveiling of the three exquisitely designed crowns for the top three winners crafted by Collection G – a brand for the woman of today in association with D'damas and World Gold Council, exclusively for Pantaloons Femina Miss India 2009. The intricately crafted crowns inspired from the Sun, Moon and Stars were unveiled by the brand ambassador of Collection G, Jacqueline Fernandez. The trendy Collection G jewellery adorning the contestants lent grandeur and beauty to the evening held at the upscale Flute Lounge, located at Hotel Sahara Star.

These aspiring finalists will continue their journey towards the coveted pageant through a month long intensive training schedule at Hotel Sahara Star, carefully put together by the Miss India expert panel comprising of Marc Robinson – Fashion Director & Contestant Director, Alicia Raut – Ramp Walk Trainer Sabira Merchant – Diction Expert, Dr. Rekha Sheth – Nivea Visage Skin Care Expert, Dr. Dilip Deshpande – Smile & Dental Expert, Dr. Abhijit Desai - Makeover Expert, Dr. Apoorva & Sonal Shah – Hair Care Experts, Ashley Rebello - Fashion Stylist for photoshoot, Prasad Bidapa – Contestant Advisor, Zakia Shakir – Fashion Photographer, Najeeb Ur Rehman – Chief Colour and Styling Consultant from Schwarzkopf Professional, Anuja Katara – Make up Expert from Make up Forever, Latif Mohammed – Head Fitness & Training Expert from Talwalkars, Neesha Bukht and Avantika Shah – Diet & Nutrition Experts from Talwalkars, Sandeep Soparkar & Jesse Randhawa – Dance Experts and Anjanna Kuthiala – Art appreciation. These experts will thoughtfully guide them in various facets which are important for every aspiring 'Miss India' to possess. The star studded grand finale will take place on the 5th of April at Mumbai.