Gold Coast Fashion Week to encapsulate lifetsyle of region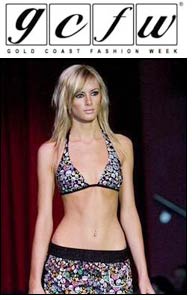 Gold Coast Fashion Week 2009 is the Gold Coast's most prestigious fashion event. What better place to hold a fashion showcase than the beautiful Gold Coast where our beautiful lifestyle matches our great fashion style.

This world-class event is to be held on the 13th –17th May 2009. Gold Coast Fashion Week 2009, will be Australia's 1st Swimwear, Summer-wear and Holiday-Wear fashion event, themed "Summer '09". With events, such as; make-up and hair demonstrations, professional photo shoots, the Australian National Stiletto Throwing Competition, and of course spectacular and creative fashion shows, it is going to be an event spoken about all year. Best of all... your invited.

The spectacular events are to be held at various locations spread throughout the Gold Coast and are designed to encapsulate the Gold Coast lifestyle. All events are open to the public and some are even free.

Face of Gold Coast Fashion Week '09
Australia's aspiring models, you could be this years winner of the Face of Gold Coast Fashion Week '09. The winner will receive a host of prizes including a professional photo shoot, hair and beauty products, wardrobe and accessories, feature on the cover of the official "GCFW Swimwear Calendar" as well as a featuring in Gold Coast Panache Magazine, not to mention the international exposure of being this years Face of Gold Coast Fashion Week '09.

Applications for the Face of Gold Coast Fashion Week '09 are available through the Division Model Management and Gold Coast Fashion Week Websites.

Menswear Show
This variety show will showcase some of the best Menswear designs that are both retail and designer. Guys this is your turn to see what you need to be seen in this year.

Accessories Show
The Accessories Show displays a variety of stunning features to accompany and enhance a single outfit. The featured bags, belts, jewellery and shoes, will be showcased with all the models wearing the same outfit, creating a different style and
unique look. The pieces featured in the show are not just accessories, but create alternate outfits. The show provides a fun and flamboyant atmosphere, rich in colour and style, an event all will enjoy.

Retail Ready-To-Wear Show
See the fashion that is available right now. All of the garments in these shows are available for you to add to your wardrobe. The show includes collections from both retail and designer labels. Want to know what it looks like on? See it before you buy it.

Live Professional Beach Photo Shoot
Ever wanted to know what a professional photo shoot is like? What are the photographers looking for and what makes a good photo? Gold Coast Fashion Week is taking all the mystery away by having a professional photo shoot on Surfers Paradise Beach. Watch everything on a cinema size screen on Surfers Paradise Beach and listen to the photographer explaining everything. See exactly what happens. The mystery and mystique of fashion will be no more.