Levi's Gen Next introduces stars of fashion biz @ LFW Day – 3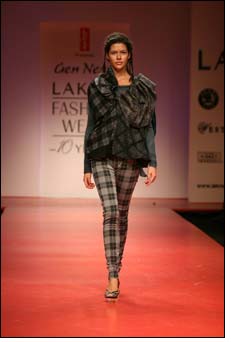 The Levi's Gen Next show has been instrumental in introducing to the fashion world some of the most talented and successful names in the fashion business like Rahul Mishra, Kallol Datta, Nachiket Barve, Sailex, Deepti Toor, Rimzim Dadu and Gaba to name a few. Now for Fall/Winter 2009 at Lakme Fashion Week the Levi's Show brought forth more talent onto the ramp.

ATITHI GUPTA
Sartorial Allure but with elegant simple shapes with a lot of detailing and muted colour tones like shades of grey, balanced with purple, beige, brown, black, green and olive which gave the fabric choice of twill silk, a base for the detailing that was the highlight of the jackets, trousers and dresses. A grey asymmetric short sleeve smock with double sleeves, sheath in purple, a two toned paneled dress and zipped Jodhpur trousers were the interesting ensembles of the collection.

VINIT AGARWAL
Inspired by the beauty of Indian jewellery the collection reflected the colours like sapphire, amethyst, ruby, emerald and topaz which floated down the ramp for heavy lehengas and cholies with a lot of glitter and glitz. The western section with ornate corsets, velvet shrugs teamed with mini skirts in rich fabrics continued the jewel inspired look. Gotta work on a long slim skirt and blouse was the highlight of the range.

GOPAL ROY
Pleating and appliqué stripes of a very high standard in shades of grey, brown, dull green played all over the skirts, dresses and jackets to display a perfect command over fabric manipulation which gave each garment an almost amazing look. The finish was excellent and the silhouettes although simple, were carefully combined to project a coordinated compact collection.

TANVI KEDIA
The almost peasant tribal like draped dhoti skirt and embroidered blouse, the asymmetric layered skirts and top, the chiffon silk woven jackets and dresses, drapes for feminine silhouettes; recreated the look of a journey through tradition and style in shades of beige, white and brown. Quilting and volumes played a medley for the creations that gave the kitschy strokes on the ensembles a trendy touch.

SHWETA CHHAWCHHARIA
'An Attic of Memories' is how the collection was called and it had that delicate blend of the past and present to bring together a line of winter clothing in stripes, checks, hand painted and textured fabrics combined with drapes and construction. The colours moved from black, brown and green to white, golden and magenta for layered tops and shrugs, draped sleeved white satin blouses, some stylish woolen Jodhpur trousers, layered with jackets and waistcoats that almost reflected a Tibetan/Alpine touch so ideal for the coming season.

PROMITA BANERJEE
Grays, black and beige came together for skirts, tops, waist coat, pinafore and trapeze style dresses, kurtas with a touch of pleating for a stylish yet minimalist line of layered clothing. The longtunics over skirts with a white jacket, the black embroidered coat with contrast collar, the pleated pinafore and the layered kurtas with softly flowing coats were designed with a characteristic fashion statement which will appeal to the style watchers.