The best of six Italian wedding dress design at Bride Show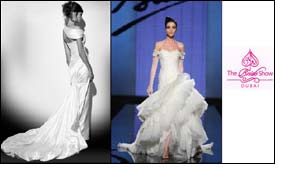 Some of Italy's most renowned bridal designers will touch down in the UAE next week to take part in The Bride Show Dubai for the first time, giving visitors a one off opportunity to buy exquisite dresses for their special day.

Six wedding dress designers from Sarli Couture, Carnevali Spose, Franco Ciambella, Mariel, Curti Spose and Merinda Spose, as well as make-up artist, Massimo Toppi and hairstylist Roberto Carminato, all from Italy's Lazio region, will present their exclusive bridal collections and services to visitors and high-end retailers at the four day event, from 8-11 April at the Dubai International Exhibition Centre.

Brides-to-be in the Middle East are renowned for their extravagant bridal budgets and the search for the perfect dress to walk down the aisle can end up costing many air miles around Europe. In a UAE first, the Lazio designers will come together to present both traditional and modern Italian bridal fashion in one exhibition space.

One of the most prestigious names of Rome's high fashion trade, Fausto Sarli, of Sarli Couture, makes creations according to the rules of old fashioned couture and the artisan methods of traditional haute couture. He personally oversees each collection at every stage, and his dresses have been worn by Elizabeth Taylor, Bianca Jagger, Monica Bellucci and Carla Bruni.

Sarli will be joined by Carnevali Spose, a leading Italian designer of wedding dresses and formal dress for grooms. A symbol of traditional haute couture, Carnevali dresses feature pure Italian silk, precious hand-embroidery and rhinestones.

The Franco Ciambella collections, also on show at The Bride Show Dubai, are characterised by the testing of shapes and volumes, the pursuit of raw materials and high-quality tailoring. The use of light and movement are distinguishing features of their elegance and style.

The Mariel collection, distributed throughout Italy and Europe in its Haute Couture stores, is inspired by the grace of women portrayed in Botticelli paintings. Embroidery, Swarovski crystals, precious turquoises and coral stones embellish Mariel's bridal dresses.

The Curti label, featuring flowing silhouettes and capturing the essence of femininity, will also be featured at the Lazio Group stand. Curti Haute Couture is well-established, with 50 years of experience in the Italian bridal industry.

Merinda Spose dresses, designed for elegant, classical and stylish brides, are embellished with precious fabrics, Mikado and pure silk taffetas, organza ruffles and fine chiffon, with French embroideries and Swarovski crystals.

The six designers will be joined by leading Italian make-up artist Massimo Toppi and hair stylist Roberto Carminati at the Lazio stand. Toppi has worked with many photographers to carry out global press campaigns as well as with many VIPs and international jetsetters. He teaches make-up classes all over Italy and offers personalised make-up services.