Jones launches Rachel Roy diffusion brand at Macy's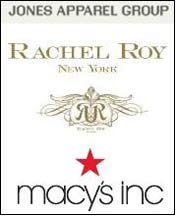 Jones Apparel Group Inc announced a strategy to support and expand the Rachel Roy brand to reach a diverse audience and increase demand at different price levels. The Company believes that there is opportunity to leverage Rachel Roy's design talent to support significant future growth, including through a Rachel Rachel Roy diffusion brand that will be offered exclusively through Macy's, Inc.

"We have a sincere belief and high confidence in Rachel's talent and her position as one of the leading new American designers," said Wesley R. Card, Jones Apparel Group President and Chief Executive Officer. "We are applying an integrated strategy to the Rachel Roy brand that draws upon Jones' exceptional resources and infrastructure to further develop the current business and drive new growth opportunities."

Terry Lundgren, Chairman, President and Chief Executive Officer of Macy's Inc., said, "Rachel's design sensibility is very appealing to our fashion customer who insists on great value and a perfect complement to the existing stable of high-profile designer brands available exclusively at Macy's. This new collection is another move in our continued effort to differentiate our assortments with the best, most desired brands on the market, giving customers another powerful reason to choose Macy's."

Jones' investment in the Rachel Roy brand began with the Rachel Roy New York designer label by applying a successful sourcing model to help create efficiencies and cost-savings while continuing to deliver the highest quality product. Industry veteran, Stephen Ruzow, has recently been tapped as President to support Rachel Roy New York domestically and to spearhead international growth for the designer label.

The Company is now extending its reach to the better contemporary arena with the launch of a diffusion label to be called Rachel Rachel Roy, which will be overseen by Susan Metzger, Chief Executive Officer for Women's Wholesale Sportswear for Jones. The Rachel Rachel Roy collection will include affordable contemporary sportswear, footwear and accessories, debuting in August 2009. The collection will be offered exclusively through Macy's Inc. at select Macy's stores nationwide and on macys.com.

The Rachel Rachel Roy collection will capture a fresh and youthful look that reflects today's culture by mixing elements of downtown cool with uptown chic at affordable price points.

Susan Metzger said, "We are thrilled to be able to bring Rachel's signature aesthetic to a larger audience with the launch of the Rachel Rachel Roy better contemporary collection. We are confident that a diverse range of women will identify with the look and feel of the brand and it will quickly become a dominant label in the marketplace. "

Jeff Gennette, Chief Merchandising Officer at Macy's Inc., said, "The Rachel Rachel Roy collection is a perfect fit for our stores, offering designer-infused product at affordable price points. We feel the line will create new excitement and fashion stature on our floors and is something our fashion customers are seeking."