FDDI participates in 'Education Fair'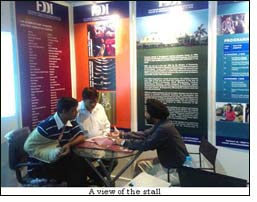 Footwear Design & Development Institute (FDDI) participated in 'Education Fair' organized at Pragati Maidan on 25th & 26th April 2009. The event witnessed more than 250 reputed Universities/ Institutes from various countries to showcase their courses to the most potential student population of India.

The officials from FDDI were present at stall no. 139 at Pragati Maidan to guide students about the career opportunities available in the field of Footwear, Retail and Leather Goods & Accessories.

Target Segment:
• Senior secondary schools students;
• College students;
• Agents for overseas education, emigrations etc.;
• Technical people looking for training abroad;
• Working professional;
• Chancellors, Vice-Chancellors, Principals, Deans, etc.;
• Parents, teachers, guardians of aspiring students;
• Professional in the field of education;
• Government officials in the Education Sector.

According to Mr. Rajeev Lakhara, IRS, Managing Director, FDDI, "The purpose of participation in the 'Education Fair' was to guide the people and serve the student community, at their doorsteps, by providing them with an easy access to education options, its prospects in the field of Retail, Footwear & Leather Goods & Accessories Design."

FDDI is number one Institute in niche area of Retail, Fashion, Footwear, and Leather Goods & Accessories Design & offer Post Graduate & Under Graduate professional programmes in these specialized areas.

The growth potential in Retail, Leather Goods & Footwear is tremendous. The huge number of trained professionals is required in Retail, Leather, Footwear and allied industry. It is an initiative from Ministry of Commerce & Industry, Govt. of India to cater the growing demand of trained professionals in these specialized fields.

Mr. Shashi Bhushan Shukla, IRS, Secretary, FDDI stated, "It was a platform to have face-to-face interaction with the aspiring students who are on the threshold of choosing a career and upgrading their skills in the area of Retail Management, Fashion, Footwear Design, Technology, Management, Fashion Merchandising, Marketing, Creative Designing & CAD/CAM, Leather Goods & Accessories Design etc."

On the similar lines, FDDI will be participating in few more upcoming 'Education Fairs'.
• Patna - 5th & 6th May 2009 at Taramandal
• Ranchi - 9th & 10th May 2009 at Hotel Capitol Hill
• Chennai - 12th & 13th May 2009 at Ambassador Pallava
• Lucknow - 19th & 20th May 2009 at Scientific Convention Centre

FDDI provides high-end training programmes to the students so that they can contribute in growth of these sectors after completion of their programmes. FDDI alumni occupy key positions in top organizations both in India and abroad and have acted as the ambassador of change wherever they have worked.

FDDI's student awarded 2nd prize during CLE Design Award 2009

Ms. Mohini Jatav, a student of Footwear Design & Development Institute (FDDI), Noida was awarded the 2nd prize for her best 'Shoe Design' in the Council for Leather Exports (CLE) Design Award 2009 under Students Category.