UAE Trading unveils first Global Concept Store of Zegna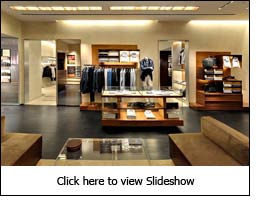 Ermenegildo Zegna in partnership with UAE Trading Establishment, unveiled its first Global Concept Store in the Middle East designed by Peter Marino, the architect of modern luxury. Located within the new retail development the Dubai Mall, the store covers 437 square metres of luxury retail.

The Dubai Global Store is the fourth of the Peter Marino concept stores for Ermenegildo Zegna to open, following the Milan opening in Via Montenapoleone in October 2007, the New York Fifth Avenue opening in March 2008 and the Shinjuku, Tokyo opening in January 2009. These store openings are the result of a fruitful partnership between the world-renowned architect Peter Marino and Ermenegildo Zegna, with the architectural firm echoing the brand's use of quality materials, integrity and modern style in the store.

The fabrics created at the Lanificio Ermenegildo Zegna since 1910, in Trivero Italy, have been a pivotal inspiration for the store design. The tactile adventure begins in-store with metallic strands in the windows; the texture created resembles the composition of woven textiles, artfully weaving raw fibres into fabrics of excellence. Stucco decorates the passages between the floors inspired by Zegna's CashCo fabric, a corduroy blend of cashmere and cotton.

Traversing from floor to wall, the golden yellow radica marble stripe refers to the selvage on Zegna fabrics, the signature line at the edge of bolts of fabric to guarantee authenticity. A nod to nature is a core theme of the store design, from the masculine yet natural colour palette to the sourcing of sustainable woods and stones. The entrance area is devoted to shirts, knitwear, leather goods, textile accessories, sunglasses and perfume. Marble, stone, selected woods and modern metals, create a welcoming and sophisticated atmosphere befitting the image of Ermenegildo Zegna.

Presented adjacent in their own individual rooms are the Upper Casual collection, the chic expression of Ermenegildo Zegna leisurewear; and the Zegna Sport brand, designed with technology and innovation for an active man's lifestyle. The Upper Casual room uses natural warm tones with rose woods, stained oak floors and bronze metal displays to convey a luxurious yet relaxed elegance. The active spirit of the Zegna Sport brand is embodied through brushed aluminium and metallic finishes combined with limestone floors. At the rear of the store an archetypal gentleman's club has been created, with Zebrano wood, mahogany and stucco embodying the formal World of Ermenegildo Zegna.