ITTIERRE to produce Costume National Collection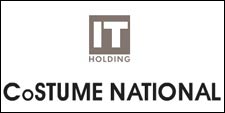 ITTIERRE S.p.A. in a.s. (IT Holding Group) and E.C. S.p.A. (Costume National) are pleased to announce that they have reached an agreement confirming the exclusive worldwide licence to produce and distribute C'N'C's men's and women's apparel, bags, shoes and accessories collections.

The current licence has a ten-year duration and is valid up to and including production of the 2019 Fall/Winter collection.

The Extraordinary Commissioners stated: "We are excited about continuing our collaboration with a brand that has such a strong identity, high creativity and growth potential as C'N'C, which has demonstrated that it continues to believe in the significant international importance and operating potential of the Ittierre Group."

Carlo Capasa, Managing Director of E.C. S.p.A., also commented: "We have always expressed great respect for the quality of Ittierre's people. The diligence with which the three Commissioners are managing the group and the development plan for our line have proven to us that confirming the licence agreement is the most obvious next step in a project that we began together. Contemporary, vital, and with an important future ahead."




ITTIERRE S.p.A.