High-end, medium-priced collections meet at JAM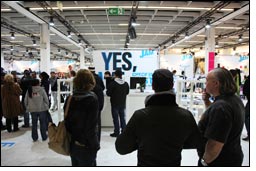 After the great success of the last JAM event that welcomed 340 exhibitors and just under 10,500 visitors the second phase for the exhibition concept is now to follow. The portfolio of segments exhibited so far (denim, sportswear, streetwear, young fashion and accessoires) will be extended to include menswear exhibitors as early as at the forthcoming event in July 2009.

Explaining how the new concept including menswear evolved, Sebastian Klinder, managing partner of the organizing munichfabricstart exhibitions GmbH, said: "When we started developing the concept for JAM a good two years ago we had already given a lot of thoughts to further steps for expansion. We wanted to wait for this newly created trade show to become established and well-positioned before venturing forth into further segments of the market. Many sector representatives approached us lamenting menswear's current lack of a effective "homebase" in the German exhibition landscape."

After a test period this July with some first exhibitors like Milestone and Lloyd, the JAM organizers are confident to attract a considerable chunk of this market segment to find a home in Cologne over the next few seasons.

Board Chairman at Kölnmesse GmbH Gerald Böse endorsed the trade show organisers' expansionary approach: "I truly welcome the JAM organisers' plans to enhance their exhibition format with menswear since they are following on from decades of menswear tradition at the Cologne exhibition venue." At the same time, various market analysts and studies forecast constant to rising demand for this new mix of denim, casualwear, street fashion plus young, high-fashion men's formal wear in the medium term.

The fashion sportswear segment for adults, for example, is expected to account for up to 50% of men's fashion sales over the next few years. To pay tribute to the rising demand of sustainable fashion, JAM will also dedicate some exhibition space to a new area termed "Ecco Friendly". Labels being strong on organic clothing, sustainability and CSR will be able to present their novelties to a wider audience on the JAM premises.

In its core segments denim and young fashion JAM continues to attract important players of the high-end, medium-priced segments. Among the 220 exhibitors listed so far one will find brands like Bench, Broadway, No Excess Ed Hardy, Cipo Baxx, Garcia, Firetrap, H.I.S., Khujo, Paddock's, Pioneer, Mauritius, M.O.D., VSCT to name only a few.

Due to the new situation in Berlin a lot of brands are still tentative in terms of where they want to exhibit. JAM Sales and Marketing Manager Günther Sommer sums up his talks with exhibitors: "Especially in view of the current economic climate as a whole, JAM continues to provide a both pragmatic and clearly calculable business and order trade show platform. This view we hold, is also shared by the overwhelming majority of denim and young fashion suppliers.

Sure enough, the return of Bread&Butter to German soil did not make it easier in our discussions with potential new participants. But a lot of brands will use Berlin as their kick-off event and marketing tool for the SS10 collections and nevertheless come to Cologne to get down with their order blocks.