Indian SMART receives good response at 72nd Expo Riva Shoe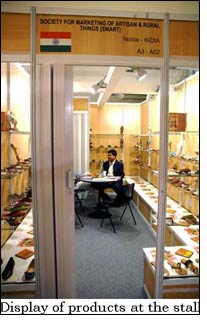 The 72nd Expo Riva Shoe Fair was held at Riva Del Garda, Italy from 6th to 9th June 2009 where 1,157 exhibitors, including 787 foreigners from 36 countries, presented all the new products for the spring/summer 2010 collections.

SMART, a society that supports the various clusters in India making traditional footwear, leather goods and other rural products participated in the fair in the Council of Leather Exports (CLE) India Pavilion situated in Hall No. A3, Stand No. A02.

According to Mr. Rajeev Lakhara, IRS, Managing Director, FDDI, "Since the future growth of Indian footwear industry is market driven and oriented towards Italy, European and the US markets, it became imperative to participate in this fair to know the latest trend apart from displaying the products of the artisans/ micro-entrepreneurs who don't have any means to reach a market place like this having wide opportunity."

"The event created a platform for both Indian and foreign manufacturers to keep abreast of the latest trends in the manufacturing of footwear from design through to the finished product" added Mr. Lakhara.

The overall trends for 2010 summer display are white, pink, light blue, & brown in children and ladies categories. The types of leather projected are full grain, nubuck, suede with or without print and laminated finish.

The products displayed at the stall of SMART were an amalgamation of traditional and contemporary styles. Approximately 150 no. of samples including handcrafted jooties, sandals and chappals were displayed which were able to evoke interest among the buyers.

The other Indian participants in the fair were Euro India Exports, Kanpur, Fashion Club Global, New Delhi, G. G. Footwear, Agra, Global Polymers, Agra, Gupta H.C. Overseas (I) Pvt. Ltd., Agra, Holyfield Overseas, Agra, I.A. Leather (India) Pvt. Ltd., Kanpur, India Leather Company, Mumbai, Jas Exports, Agra, J.R.D. Exports, Agra, K.G. Footwear Exports (P) Ltd., Kanpur, K.K. Leather Mart, Agra etc.

Mr. Shashi Bhushan Shukla, IRS, Secretary, FDDI stated, "It was a platform to bring the world's buyers and sellers together and showcase our exclusive handcrafted footwear which are different in design and superior in get-up."

The participants at the stall were Mr. Suman Banarjee, Consultant - Leather Goods and Accessories Design (LGAD), Mr. Navendu Shekhar, Faculty Member, Ms. Yagika Madan, Faculty Member from FDDI and Mr. Arvind Chouhan from SMART.

During the fair, brochure and magazine of FDDI were also distributed and information about FDDI's laboratory services, training programmes and consultancy services were provided through brochure and one-to-one meeting.

SMART received enquiries for the possibilities of variations in the samples displayed and the potential scope for the export of Mojari is to USA, Italy and other European countries.

Visual Merchandising Competition held at FDDI
Center forRetail Management organized a Visual Merchandising (VM) Competition for cohorts PG Diploma in Retail Management (PGDRM) & Diploma in Fashion Merchandising & Retail Management (DFMRM) of the Footwear Design & Development Institute (FDDI).