'Go Forth' supports Berkeley Rep's premiere of American Idiot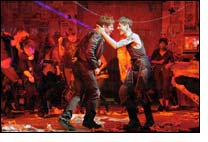 Continuing in its long-standing heritage of supporting innovation in the arts, the Levi's brand has signed on as the lead sponsor of Berkeley Repertory Theatre's world premiere of American Idiot, the stage version of the Grammy Award-winning album from Green Day. The denim company is supporting the Tony Award-winning theatre and has served as a resource for costume designer Andrea Lauer in researching and realizing the unique look of this show. American Idiot comes to life at Berkeley Rep from September 4 through October 11 and is staged by Michael Mayer, the Tony Award-winning director of Spring Awakening.

The Levi's brand and their new "Go Forth" advertising campaign align perfectly with the pioneering spirit of Berkeley Repertory Theatre and the central themes of this ground-breaking production. Berkeley Rep has earned a national reputation for nurturing writers and developing new work, and this is the Theatre's 52nd world premiere.

Known for its core values of innovation and excellence, as well as its adventurous audience, Berkeley Rep provides a safe haven for emerging and established artists to take creative risks. American Idiot, like "Go Forth," encourages individuals to nurture their unique sense of self and embrace a pioneering spirit to forge their own path when societal change is necessary to create a better future. It is this sense of passion and visionary intelligence which link the two, making for a new kind of partnership.

"Green Day's American Idiot album has had a profound impact on music and culture, and this show has the potential to revolutionize modern theatre. We are thrilled to be a part of such a ground-breaking artistic concept," says Doug Sweeny, Vice President of Levi's(R) Brand Marketing. "Levi's(R) jeans have been favored by musicians and cultural pioneers who march to the beat of their own drum for decades, so our participation in this show truly is a purposeful and authentic fit."

"Music activates the clothing," says costume designer Andrea Lauer. "It evokes an attitude and an energy that also comes across in the costumes. So, as a designer, I'm taking the personality of the actors and the raw movement of the show and weaving them together. Denim became a natural canvas to work on, because these characters are the kind of people who find a favorite pair of jeans and wear them until they can't wear them anymore. Levi's(R) jeans have a timeless aesthetic on which to build character - and the jeans let them dance the hell out of these songs. I mean, these people have studied the American body for years and know how to make clothes that fit."

Lauer chose Levi's jeans, the iconic denim brand favored by the rock-and-roll community, to reinforce the authenticity of many of the costumes featured in the show. To prepare, she spent a lot of time with each actor getting to know their personalities and individual style preferences. She developed each character's costume after extensive research and, in many instances, chose to incorporate Levi's jeans. She slashed and tore the jeans and had them bleached, painted, or otherwise individualized to create an authentic look and feel. Lauer's favorite styles are Levi's 514 Slim Straight Jean and Levi's 511 Skinny Jean - both styles have been adopted as a virtual uniform by musicians and urban hipsters today.