Nike and Kobe launch new Zoom Kobe V, Lower & Lighter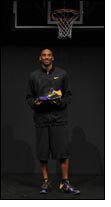 Nike and Kobe Bryant announced the debut of the Nike Zoom Kobe V, the brand's lowest-profile and lightest basketball shoe to date. Bryant challenged Nike to make his signature shoe even lighter and lower than the Nike Zoom Kobe IV he debuted during his 2008-2009 championship season. Nike responded with the Nike Zoom Kobe V, which features a 10 mm forefoot profile and weighs 10.6 ounces – one ounce lighter than the Nike Zoom Kobe IV.

"I wanted to push the envelope with a shoe that meets the demands of my style of play," Bryant said. "The Kobe V is lighter, lower and more stable. Nike has done it again."

Different sports, similar demands

The initial inspiration for Kobe's low-profile shoe came from an unexpected place: the soccer field. "I watch a lot of soccer and have seen how the best footballers in the world make sharp cuts at top speed in lightweight, low-cut footwear," Bryant said. "The demands they make on their feet and ankles aren't that different from what I'm doing on the court, yet nobody assumes they should play in high tops."

With Bryant's observation as inspiration, the Nike Sports Research Lab conducted hundreds of hours of testing to create a low-profile shoe that did not compromise stability or lockdown. By modifying the medial arch and sculpting the external heel counter, Nike researchers created a shoe with exceptional performance that moves with the foot and allows for multi-directional cutting. An enhanced outrigger provides lateral stability, while the de-coupled heel maximizes contact surface. The shoe also features a glass/carbon fiber weave shank plate for mid-foot control and rigidity.

"The journey from a high-top to a low-top basketball shoe is far more complex than simply cutting off the ankle collar, as we demonstrated with the Nike Zoom Kobe IV," said Matt Nurse, Senior Researcher with the Nike Sports Research Lab. "With the Kobe V we constructed an even lighter-weight support system that provides superior, one-to-one lockdown while moving with the foot, not against it."

Lightweight performance technologies evolved

Building off the success of the Nike Zoom Kobe IV, Nike Performance Footwear Creative Director Eric Avar wanted to further reduce the weight of the shoe while still enhancing support and stability.

"For the Kobe V, we started with the science and performance elements and built from there," Avar said. "We wanted this shoe to be a true reflection of his game and persona. As Kobe continues to evolve as an athlete, so will the footwear we create for him."

The Nike Zoom Kobe V also features a lighter, stronger version of Nike's innovative Flywire technology, that's strategically placed to perform like synthetic tendons while cradling the foot like a second skin. The shoe's overlays were bonded with heat welding, which is lighter, more consistent, and less abrasive than traditional stitching. Nike Zoom units in the heel and forefoot, as well as lightweight Phylon-injected midsole, provide a cushioning system that reduces pounding without adding bulk or weight.